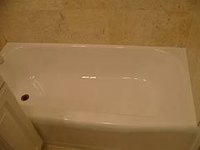 The sealer around a fiberglass tub keeps water from invading the seam between tub and wall and causing moisture damage. This sealer can become dirty and unattractive as time goes by. Removing the old sealer must be done with care to avoid damaging the fiberglass surface of the tub.
Things You'll Need
Razor blade
Tweezers
Non-abrasive scrubbing pad
Rubbing alcohol (ethanol)
Dish washing soap
Soft cotton cloth
Automotive polish
Pry one corner of silicone loose using tip of razor blade or tweezers. Remove as much sealer as possible by working the point of tweezers into the joint and prying out the sealant. Keep a steady tension on the loose end, and pull gently to extract strip of sealant out of the crack between the wall and tub.
Shave any remaining spots of sealer flat with the edge of the razor blade. Get as close to the tub's surface as possible without scratching the fiberglass. Scrape any remaining sealant completely off the surrounding wall with the razor blade.
Rub the remaining paper thin remnants of sealer with your thumb, using your thumbnail around the edges to loosen the sealant. Try to roll up each bit into a small ball so you can pick it off of the fiberglass surface.
Dab a small amount of rubbing alcohol on stubborn spots, and rub gently with a non-abrasive pad. Rinse the entire area with a solution of water and dish soap. Dry with a soft cotton cloth, and check for any missed sections.
Bring back shine to dulled spots with a tiny amount of automotive polish rubbed on with a cotton rag. Let stand for a moment, then buff dry. Allow tub to dry completely before reapplying silicone sealant.