Things You'll Need
Kitchen scale

2 oz. beeswax

5 oz. palm oil

7 oz. coconut oil

7 oz. olive oil

5 oz. hemp oil

4 oz. sweet almond oil

1 tablespoon castor oil (optional)

11.5 oz. cold water

4 oz. lye (pure sodium hydroxide)

13-by-9-inch brownie pan lined with parchment

1 oz. lavender essential oil

1 oz. rosemary essential oil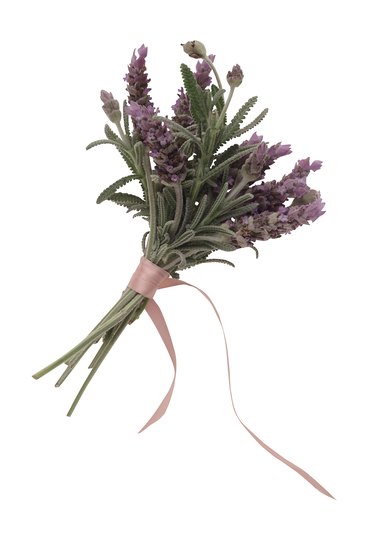 In soap making, oils are chosen for their particular properties. Beeswax and palm oil help to make a firm bar; coconut and castor oils provide a good lather; and olive, hemp and sweet almond oils are conditioning for the skin. The cold process method uses lye and creates fumes, so be sure to work in a well-ventilated area and wear gloves when handling the lye and soap until it has fully cured for one month.
Step 1
Add the beeswax, palm, coconut, olive and hemp oil to a large saucepan over low heat on the stove top. Stir the oils together until the beeswax has melted. Once the beeswax melts, turn off the burner and put a candy thermometer in the oil mixture to monitor the temperature. Leave to cool while you make the lye mixture.
Step 2
Pour the cold water into a heatproof bowl. In a well-ventilated area, add the lye to the water and stir. When the lye has dissolved, use your second candy thermometer to monitor the temperature. Be careful when handling the mixture as it will reach almost 200 degrees Farenheit in one to two minutes. Let cool.
Step 3
Check the temperature of both the oil and lye mixture. Wait for both to cool down to between 95 to 105 degrees. Use a cool water bath or reheat on the stove top if one is too hot or cold. When they have reached the correct temperature, pour the lye into the oil mixture.
Step 4
Stir the mixture until it reaches trace. Tracing occurs when the lye and oil have fully combined. You will know when tracing is happening because the soap mixture changes from transparent to opaque.
Step 5
Stir in the essential oils and 1 tablespoon castor oil (optional). When combined, pour the soap mixture into your lined mold, and cover it with plastic wrap.
Step 6
Store your soap in an area where it can cool slowly. Cooling too fast can cause the soap to crack. A wool blanket will help insulate the soap while it cures. Remove the wool blanket after one week, and remove the soap from the mold. Cut the soap into bars, and return to the curing spot. Let the soap sit for another three weeks. After one month, your soap is ready to use