Things You'll Need
Sandpaper

Paint roller

Paintbrush

Bleach

Primer

Paint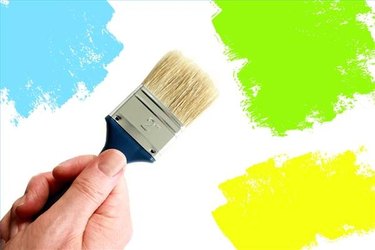 Bathroom ceilings and walls can be hard areas to keep looking nice, because of mildew, peeling paint and water marks. Humidity is your enemy in the bathroom. If your paint is peeling in there, it will take more than a new coat of paint to fix the problem.
Step 1
Use a fine-grit sandpaper to gently buff the edges of the peeling paint. Sand until the edge is well blended with the surface of the wall. Scrape any areas that are bubbling. Do not gouge the wall underneath the paint with the scraper.
Step 2
Clean the walls and ceiling with a specially formulated paint detergent. Or use a general-purpose household cleaner, as long as you thoroughly rinse with hot water after cleaning. Do not leave any residue on the walls. Do not use this method on a heavily textured ceiling.
Step 3
Remove remaining mildew stains by spraying a weak solution of diluted bleach water onto the spots. One tbsp. bleach in a cup of hot water will break up the stain. Rinse with hot water to remove any remaining residue. Allow the walls and ceiling to dry completely. Do not allow the bathroom to become fogged up by showers or baths prior to painting.
Step 4
Check the texture in the area you're repairing. You may need to replace the texture, if you had to sand through it to remove the peeling paint. Match the texture to the existing wall. You can find texture repair kits at most hardware stores. Follow the directions on the kit.
Step 5
Apply an oil-based, stain-killing primer coat to all areas that have been sanded and cleaned. Follow the directions on the label. Allow the primer to cure completely before painting.
Step 6
Make sure the new paint matches the existing color before applying it to the walls or ceilings. Mix the paint thoroughly before applying. Using a sponge brush, dab paint onto the area that has been sanded. After this coat dries, use a roller to apply another coat over the first, extending this one slightly beyond the edges to overlap the area that did not require sanding. Use a slightly dry roller so the edges blend together. Repeat this step, if necessary.
Tip
Have adequate ventilation in the bathroom while you are cleaning and painting. If you have a recurring problem with peeling paint in the bathroom, you may not have enough ventilation. Installing a ceiling fan will help remove humidity before it damages the paint.
Warning
Use caution when removing mildew with bleach. Use a dust mask when sanding down the peeling paint. Do not use paint in small areas without adequate ventilation. Open windows or set up fans to help with air flow.