Things You'll Need
Polyurethane

Foam brushes

Tack cloth

Electric palm sander

220-grit sandpaper

220-grit buffing pad

Paint or wood stain

Cloth rags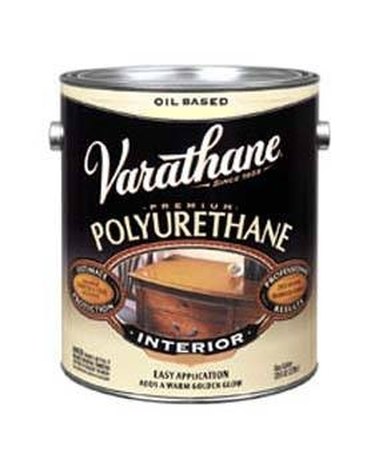 Polyurethane is a reliable, long-lasting oil or water-based wood finish that is available in interior and exterior formulas. The interior formulas are for finishing furniture and other wood-based applications that will remain indoors. The exterior formulas are for finishing wood and metal objects and furniture that will be used outside the home, like wooden lawn furniture and picnic tables. Oil-based polyurethanes take longer to dry and are best suited for beginner wood finishers. Water-based polyurethanes are best suited for objects that are painted white (oil-based polyurethanes will give white paint a yellowish tint), and is a little more difficult for beginner wood finishers to use because it dries so quickly. Whether you are using an oil-based or a water-based formula, works well on finished (painted or stained) woods, or by itself to keep the natural wood look.
Step 1
Remove any foreign materials from the surface to be finished so it is free from old, worn-out finishes, dirt, oil, grease, and similar substances that will not allow the polyurethane to adhere to the surface properly.
Step 2
Sand the surface of the object to create a uniform surface, and then wipe the dust off of the object with a tack cloth.
Step 3
Stir the polyurethane well with a paint stir stick. Lower-gloss (like semi-gloss, satin, and matte) polyurethanes have a sheen reducer added to the finish that will settle to the bottom of the cans and must be mixed uniformly before using. Note: Never shake a can of polyurethane. Doing so will cause tiny air bubbles to be dispersed throughout the contents of the can and will cause many air bubbles on the surface of the finished object.
Step 4
Apply a thin first coat of polyurethane to the object with a foam or a bristle brush (foam brushes leave fewer, if any, streaks). Allow the first coat to dry for 4-6 hours. Then sand lightly with 220-grit buffing pad and remove the dust with a tack cloth. Apply 2-3 more coats sanding and removing the dust in the same manner as stated above.
Step 5
Allow the final coat to cure for 24 hours using the finished object.
Tip
Wear latex or blue nitrile gloves to make hand cleaning easier. Clean up polyurethanes with turpentine, paint thinner, or mineral spirits.
Warning
Adequate ventilation is required for safe application conditions.