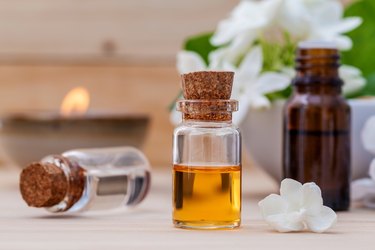 Fresh clean clothes and bedding are a delight when dressing or sleeping. When a scent persists, even after doing the laundry, you may ask yourself how to get a perfume smell out of clothes. Perfume, sweat, pet or food scents, such as fish or onions, require extra attention to prevent a lingering aroma from following clothing from the laundry basket to the closet.
Remove Fragrances From Clothes
Clothing that can be washed can usually also be soaked to remove not just scents, but stains as well. Check the label for washing instructions before you begin. Though some items may be soaked and washed with chlorine bleach, chlorine leaves its own distinct scent unless thoroughly rinsed. In general, there are better options for scent removal.
Fabric sanitizer products are pretreatment spot treatments which are sprayed onto offending areas, such as underarm areas, approximately five minutes before washing the clothing. However, perfumes are often pervasive and may have tainted everything in the laundry hamper.
If the perfume has also left a stain on your clothing, try using rubbing alcohol to remove the oily substance. If still damp, blot with a clean cloth first. Then use a cotton ball or swab to carefully dab rubbing alcohol onto the stain. Blot, dab more alcohol, blot and repeat until the stain disappears; then hand or machine wash the clothing.
Try soaking to get a perfume smell out of clothes by mixing 1 gallon room-temperature water, 2 teaspoons dishwashing liquid and 1/4 cup white vinegar. Add the clothing, immerse in the solution and soak for at least 15 minutes and overnight if necessary, then rinse and wash. In all cases, don't put your clothes in the dryer until you're sure the perfume scent has been removed.
When removing strong odors of all kinds, including hockey and football funk, add 1 capful of an oxy- or enzyme-cleaner to 1 gallon of warm or hot water. Add the clothing, submerge and soak for at least one hour or overnight. Rinse and take a cautious sniff; if it still smells, add 1/2 to 1 cup baking soda and your favorite laundry detergent to the washer, fill with water and allow the clothing to soak for one or more hours before washing your clothes. Add an additional 1/2 cup baking soda to the rinse for extra deodorizing power.
Stubborn perfume scents and the resulting oily stains may need professional cleaning. In addition, some fabrics, leathers and furs cannot be washed in the washer. Take the clothing to the cleaners as soon as possible. Be sure to point out the stains and advise the cleaners if you've already tried to remove the stains, as it may affect their treatment method to avoid further damaging your clothing.
Give Your Clothes Some Air
In addition to washing or dry-cleaning your clothes to remove perfume and other scents, try hanging them outside in a covered patio or carport. A cool, dry and breezy location helps disburse the scent, especially in clothing that cannot be put in the washer, such as leathers and furs. This also helps air out any chemical smells after having non-washable clothing and other items professionally dry-cleaned.