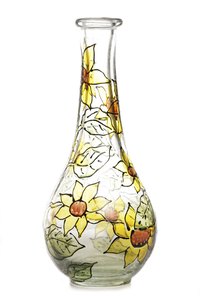 While acrylic paint can completely change the look of a glass surface -- such as a wine glass, mason jar or ornament -- the paint itself can easily come off with everyday use. Applying a sealant over the painted glass helps to prevent the paint from chipping, fading and wearing off. Acrylic sealant is available in spray-on and brush-on forms. However, you should choose a sealant, polyurethane coating or polyurethane varnish with a glossy finish that is safe for use on glass surfaces. Avoid matte finishes, which will affect the natural glossy look of the glass.
Things You'll Need
Spray-on glossy acrylic sealant or clear polyurethane coating
Glossy polyurethane varnish
Spray-on Sealant
Shake the spray-on sealant can for several seconds until well mixed.
Remove the lid from the can. Hold the can about 12 inches away from the glass surface.
Spray the entire surface lightly with the sealant using a sweeping, back-and-forth motion. Avoid applying the sealant in a continuous spray.
Apply an additional one or two light coats to the surface, allowing the sealant to dry about 15 minutes between each coats.
Place the glass in an undisturbed area where is can dry completely for at least 24 hours.
Brush-on Sealant
Dip a clean paintbrush into the varnish. Hold the brush over the varnish container. Allow the excess varnish to drip off the brush and back into the container.
Brush on the varnish covering the entire painted surface with a light layer of the sealant. Let the varnish dry for about an hour.
Apply an additional one to two light coats of the varnish, allowing it to dry after each application.
Allow the glass to dry for at least 24 hours in an area where it won't be disturbed.