Things You'll Need
Hair dryer

Dry ice

Soft clean cloth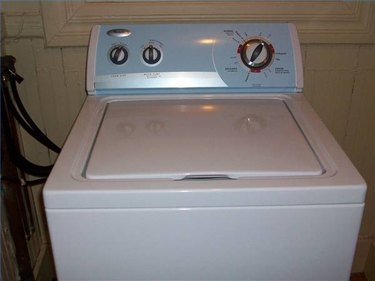 The washing machine is a heavy, bulky necessity in any home so if it gets dented it may seem like an impossible task to fix. Fortunately it's easier than it looks. There's no need to worry about costly repairs for this easy fix. All it takes is a little dry ice, a hair dryer, and a little bit of patience. With minimal effort the dent can be removed as though it was never there at all.
Step 1
Hold a hair dryer over the dent for 45 seconds or until the area is hot to the touch.
Step 2
Hold a piece of dry ice in the center of the dent as soon as the hair dryer is taken away. Keep it there for five to 10 seconds. Be sure to wear gloves when handling dry ice as can cause burns to the hands if handled directly.
Step 3
Remove the ice and watch as the dent pops out on its own. This should happen in less than a minute.
Step 4
Repeat if necessary. Wipe the area with a clean dry cloth once the dent is gone.