Things You'll Need
Concrete hammer drill

Concrete drill bits

Vacuum

Epoxy-based anchoring adhesive

Caulking gun

2-foot level

Eye protection

Ear protection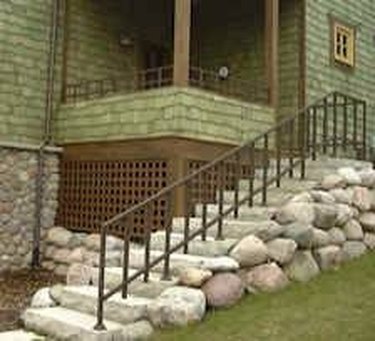 Small safety improvements such as installing a new wrought-iron hand rail in place of a deteriorated hand rail, or as a new addition, can provide a sense of security to you and your family. Installation is not hard, though you will need what some do-it-yourselfers may consider specialized tools. But everything you need can be rented from your nearest tool-rental center. And after a quick trip to the hardware store, you will have everything you need to begin.
Step 1
Mark the concrete where holes need to be drilled. Prepare the hammer drill for drilling by inserting a drill bit that is at least 1/2 inch bigger than the size of the post that will be anchored into the concrete. Plug the drill in using an appropriately gauged extension cord. Pull the trigger on the drill to be sure there is power.
Step 2
Begin drilling each hole. Have two helpers eye the drill bit (from 90-degree angles) to be sure the drill bit remains straight. Each person will need eye and ear protection. Have one of your helpers vacuum away the dust and debris produced from the drilling periodically to keep the work area clear.
Step 3
After drilling the holes, vacuum all of the concrete dust out of the holes. Dry-fit the railing to see if the posts fit correctly. Make corrections if needed.
Step 4
Begin mixing the epoxy-based anchoring adhesive. Follow the mixing instructions on the package.
Step 5
Place the wrought-iron handrail back into the holes. Have your helpers keep the handrail plumb using a level as you use a caulking gun to fill the holes with the anchoring adhesive. Support the handrail as the adhesive dries and cures according to the drying instructions on the package.
Warning
Do not breathe concrete dust. Use a face mask if needed.