The moment you walk into a commercial spa, its soothing atmosphere, low lighting and pastel, neutral or cool colors have a calming effect. You can feel the stress immediately begin peel away -- something you can easily replicate in your own bathroom with a few subtle decor touches. It doesn't take much to create a spa-like bathroom if you choose a color palette that's calm, soothing and relaxing. Well-placed candles, subtle fragrances and plush towels may make your bathroom retreat your favorite place when you're home.
Relaxing Color Palettes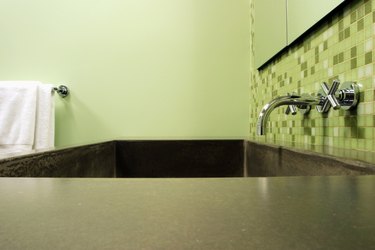 Spas maximize their appeal by using color psychology in their palettes, with silky neutrals, welcoming pastels and cool colors. For small or large bathrooms, paint the walls in soft chamois, pale grasshopper, putty or even a tinted-with-white and toned-with-gray cypress. In small bathrooms, keep walls to your main color choice and contrast them with a slightly darker pigment on the trim, but in larger spaces, you might prefer a tinted cappuccino on the wall with contrasting dark brown trim, along with shelves filled with rolled-up snow-white Turkish towels. Certain colors have a calming effect, while others -- such as reds, bright yellows or even orange -- are more stimulating. Some paint brands offer spa collections to make it easy for you to choose colors.
Tile and Shower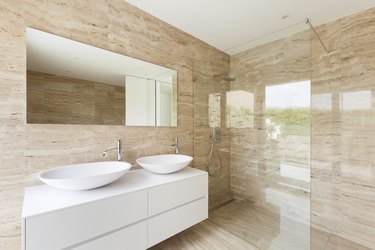 You don't have to use expensive tiles; many ceramic tiles mimic the look of marble or granite. But for an all-out spa effect, install large tumbled travertine or small subway tiles on the floor, on the tub's exterior and surround, and wainscoted partly up the wall. If you have a separate shower, add a system that indulges: dual or large rain shower heads, steam shower, body sprays or handheld shower controls -- it's a personal choice and a budget-dominated one.
Declutter the Bathroom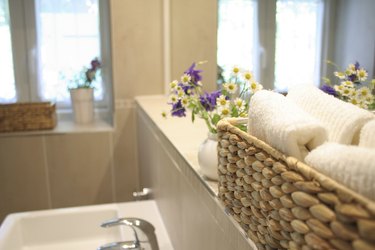 To create a relaxing environment, you want a clutter-free Zen-like space -- it doesn't impinge on your head space, and gives you the feeling of mental expansiveness. Go through your bathroom; clean off the counters and shelves, and clean out the drawers to get rid of old makeup and items you no longer use. Find a place to hide away -- but keep in easy reach -- hair dryers, curling irons, brushes, cleaning supplies and bathroom paper products. Use baskets inside cupboards to store miscellaneous items, but bring your towels out of the closet and onto shelf display. A wire or woven basket attached to the wall vertically becomes a convenient spot to roll up towels and store them.
Lighting and More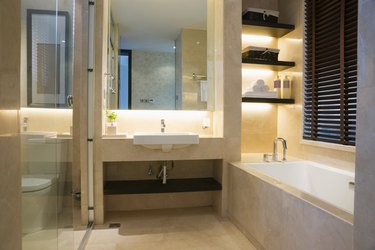 Add a dimmer switch to the bathroom's main light or opt for a less bright bulb to reduce glare and create a relaxing effect. Add makeup lights around the mirror on a separate switch for getting ready in the morning. A sleek smartphone speaker-docking station or wireless speakers allow you to enjoy your favorite streaming tunes while you relax in the tub. If it's in your budget, opt for a spa or soaking tub; you can buy these in standard sizes to fit in the space of your existing tub. Just think of all the money you'll save not going out to the spa.
Decor, Candles and Fragrances