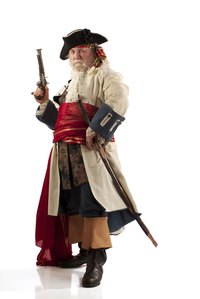 Avast! Prepare for International Talk Like a Pirate Day, for a costume party or just for some rollicking good play by making yourself a personalized pirate hat. Whether you opt for folding a paper tricorn or recycling felt headgear, you'll be ready for adventure on the high seas.
Things You'll Need
Newspaper or newsprint
Tape or glue (optional)
Felt hat with rounded crown and 4-inch-wide brim
Chalk pencil
Awl or ice pick
4 shoelaces
Nautical Newspaper Headgear
Tear or cut a 17-by-22-inch piece of newspaper or newsprint. For smaller children, a half-sheet of paper will do.
Fold the paper in half, matching the short sides to each other.
Bend the left-hand corner to the center and crease the fold.
Repeat the fold for the right-hand corner. You should have what looks like a large triangle with a rectangular band below it.
Open the bottom edge of the band and fold one side up onto the triangle.
Turn the hat over and fold up the remaining edge.
Add some tape or glue to hold the hat together, if you like.
Salvaged Swashbuckler Hat
Fold up the brim of your hat to meet the crown.
Mark the corners of a square on the upturned brim with the chalk pencil.
Punch holes through the brim and crown on the marked spots, using the awl or ice pick.
Cut the shoelaces in half, leaving the aglets, or ends, intact.
Thread the aglet of one lace through a pair of the holes, bringing it up from inside the crown, over the brim and back to the inside.
Repeat the lacing for the other two holes.
Turn the hat and fold up the brim on the opposite side.
Repeat the punching and lacing process.