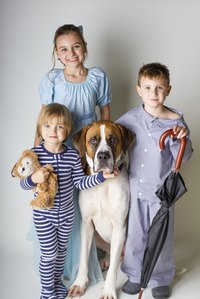 Wendy is the eldest of the Darling children, who live in London and travel to Neverland in J.M. Barrie's classic children's book. Walt Disney's film adaptation of "Peter Pan" brought the Darlings and the rest of the book's characters to life. Disney depicts Wendy as a pretty girl in a blue dress and hair bow who is reluctant to grow up. You can make a simple Wendy costume for your child that mimics this iconic look.
Things You'll Need
Tape measure
Wide, light-blue satin ribbon
Scissors
Liquid seam sealant
Long, light-blue dress or nightgown
Flesh-colored tights
Black ballet flats or slippers
Comb
Curling iron
Ponytail holder
Hairspray
Brown ribbon
White feather
Measure the child's waist and add approximately 3 feet to the measurement. Cut a piece of ribbon to that length, cutting on the diagonal. Test-fit the ribbon: Wrap it around the child above her natural waist, and tie it in a large bow in back. Trim the ends of ribbon to the desired length, and remove the ribbon. Apply liquid seam sealant to the cut edges, following the manufacturer's directions, and set the ribbon aside to dry.
Cut an 18-inch piece of ribbon for the hair bow. Cut on the diagonal, and apply liquid seam sealant to the cut edges to prevent fraying. Set the ribbon aside to dry.
Dress the child in the blue dress, tights and ballet flats or slippers. Tie the long piece of ribbon over the dress slightly above her waist, making a large bow in back.
Use the curling iron to create sausage curls along the lower portion of the child's hair. Gather the hair into a ponytail at the back of her head and secure it with a ponytail holder. Curl the bangs under, if applicable, and use the comb to smooth the front of the hair. Don't comb out the sausage curls. Adjust them with your fingers and apply hairspray. Wrap the smaller piece of ribbon around the ponytail and tie it into a bow.
Make an optional headpiece for Wendy that resembles the one she wears in Neverland. Measure the circumference of the child's head, and cut a piece of brown ribbon slightly longer than that measurement. Place the ribbon over the child's forehead and tie it in a knot at the back of her head above the ponytail. Tuck a white feather into the headband.