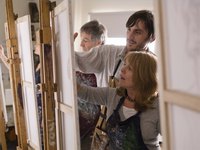 How to Paint With Makeup. Painting is a wonderful way to express yourself artistically and produce a unique piece of art to decorate your home with. But professional paints are often expensive, not to mention extra supplies such as paint brushes, palettes, cleaners and thinners. Painting with makeup is a fun and cost-effective alternative to exploring your creativity. You'd be surprised what you can create with the tools already in your makeup drawer.
Things You'll Need
Powder-based cosmetics, such as eyeshadow or blush
Pencil cosmetics, such as lip or eyeliner
Liquid eyeliner or nail polish
Aerosol hair spray
Select a background color for your painting from one of your powder-based cosmetics, such as eyeshadow or blush. Rub your index or ring finger into the cosmetic and lightly apply to your canvas or paper in a circular motion. This creates an "airbrush" effect, perfect for backgrounds such as blue skies with fluffy clouds, oceans, or smoky night skies.
Choose a color for an object you'd like to create from one of your pencil cosmetics, such as a lip or eyeliner. Lightly sketch the object just as you would with a regular pencil. Smudge the lines with a sponge or finger for a softer edge if desired.
Pick a color with which you'd like to make defined brush strokes from your liquid eyeliner or nail polish. Paint with the eyeliner or nail polish brush as you would with an ordinary paint brush. This is ideal for painting objects such as blades of grass or flower petals.
Lightly spray your paper or canvas with aerosol hair spray when you're finished. This will set the piece so your cosmetics won't smudge.