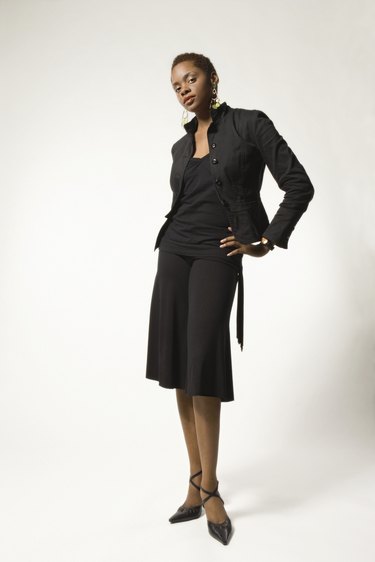 It used to be that rayon, developed in 1910, needed dry cleaning. That's no longer always true. Now, you can clean many rayon garments at home with little fuss, mess or shrinking your fashion investment.
Things You'll Need
Detergent for hand-washable clothing

Pressing cloth (a very thin cotton towel is fine)
Step 1
Read the garment's care label. If you attempt to wash rayon that isn't washable, it will shrink, stretch and bleed dyes all over. It will not be wearable again.
Step 2
Launder all washable rayon by hand. It is vulnerable to damage when it's wet, so a washing machine's agitation could ruin it.
Step 3
Wash your rayon garment in cool or tepid water with a detergent made for hand washing. Gently squeeze the soapsuds into the fabric. Rinse thoroughly in cool water.
Step 4
Handle with care. Never wring, twist or bunch up rayon. Shake it out gently and smooth out the wrinkles with your hands.
Step 5
Hang your garment on a plastic or padded hanger to dry. Wire hangers will leave rust spots on it. If it could lose its shape, dry it flat. It will dry best on a drying rack if you have one.
Step 6
Iron rayon material inside out to keep it from shining. Use low heat and press it while it is slightly damp to ease the wrinkling. If you must touch up the right side of the garment, cover it with a cloth first.
Tip
Iron rayon damp to make the job much easier.
Warning
Never iron rayon right side out without a pressing cloth to protect it.