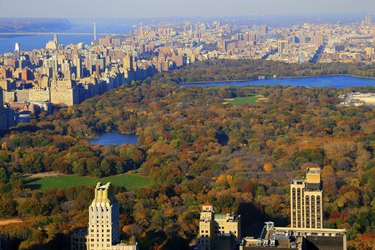 Rockefeller Center has its own subway stop. That sounds easy, but getting there can be complicated, depending or where you're coming from. Not all subway trains stop there. It's often easier to avoid the hassle of transferring between trains by getting off at a nearby stop and making the short walk. It sure beats trying to navigate New York City's subway system as a first-timer.
A Direct Line
The subway stop at Rockefeller Center is called 47-50th Street Rockefeller Center. It's serviced by the orange line trains -- B, D, F and M. All NYC subway lines are color-coded. The orange line trains are the only ones that make the Rockefeller Center stop. The B and D trains run between Brooklyn and the Bronx and the F and M trains between Brooklyn and Queens. All make multiple stops in Manhattan.
Nearby Stops
A few other subway lines will get you to Rockefeller Center, but you'll have to walk a block or two. The 1 train (red line) stops at 50th Street; the N, Q and R trains (yellow line) at 49th Street; the 6 train (green line) at 51st Street; and the E train (blue line) at Fifth Avenue and 53rd Street. All of these stops are within easy walking distance to Rockefeller Center, which covers the area between Fifth and Sixth avenues and 48th and 51st streets.
From Major Attractions
From Lower Manhattan, take the green line trains -- 4, 5 and 6 -- to get to Rockefeller Center. Get on at the Bowling Green station if you're coming from Battery Park and the Statue of Liberty dock; at the Wall Street station from the Financial District; or at the Brooklyn Bridge station. Get off at Grand Central. Head west on 45th Street, then north on Fifth Avenue. From the Museum of Natural History and other points along Central Park West, take the B or D train heading south to the Rockefeller Center station. Times Square is within walking distance of Rockefeller Center; its subway station is serviced by a number of trains on different lines.
From NYC Airports
John F. Kennedy International Airport is the only NYC airport with direct subway service into Manhattan. To get to Rockefeller Center, take the airport's Airtrain service from the terminal to the JFK Airport stop for the E train (blue line) in Queens. Get off at the Fifth Avenue and 53rd Street stop in Manhattan and head south. Getting from LaGuardia Airport is a bit more challenging, since the airport has no subway service. You'll have to take the M60 bus from the terminal, transfer to the N or Q train (yellow line) at the Astoria Boulevard Station in Queens, get off at the 49th Street station in Manhattan and head east.