Things You'll Need
Glass jar, votive candle holder or the like

Flat-back rhinestones

Household Goop adhesive

Paper or plastic disposable plate

Toothpicks

Well-ventilated area

Paper towels

Glass cleaner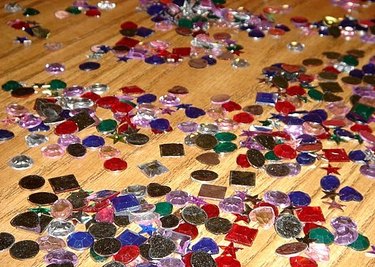 How to Stick Rhinestones to Glass. Adhering stuff to glass takes a special kind of adhesive. The trick is to find a strong adhesive that dries super-clear when you're dealing with glass. Experimenting with several kinds is fun, but if you want to skip all the mess and expense, buy yourself some Household Goop. It's perfect for non-porous surfaces like rhinestones and glass. Here's how you use it.
Step 1
Clean your glass surface with glass cleaner to remove oils and other residues.
Step 2
Squeeze out about a half-dime sized amount of Household Goop on to your disposable plate. It's best to work near an open window.
Step 3
Using a toothpick, dab some Household Goop adhesive on to the back of the rhinestone, and another small dab on the glass where you want to place the rhinestone.
Step 4
Let them partially cure (or dry) on both the glass and the rhinestone for 2 to 5 minutes, then press the rhinestone (with the partially-cured adhesive on the back) on to the partially-cured adhesive on the glass.
Tip
The rhinestones will be fully secure after 48 hours. Allow the adhesive to cure at least 24 hours before moving. You can also find self-adhesive rhinestones sold as "Bling" for cell phones. The adhesive on these may be adequate for most uses. Other adhesives that will work but may not be as strong or clear as Goop are Gem-Tak and Jewel-It. Neither of these require ventilation. If you wish to experiment with other adhesives, be aware that acrylic rhinestones react badly with some adhesives like E-6000 and 2-part epoxies.
Warning
Make sure you work in a well-ventilated space. Goop is a bit toxic. Do not put too much Amazing Goop on your glass or the rhinestone. If some adhesive seeps out from behind the rhinestone, clean it up quickly with acetone. Once Goop has cured, it must be scraped away. Again, work in a well-ventilated area!