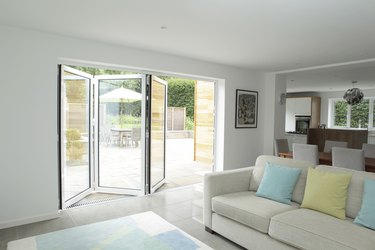 A trifold door (or three-fold door) can be a tremendous space-saver. Both bifold doors and trifold doors are frequently used in spaces with little clearance for an opening where traditional doors are unusable. Trifold doors open wider than bifolds, making them ideal for closets. However, you can also install a trifold patio door, triple-fold shower door and more. Installing or building your own trifold door is certainly a doable home project, but it takes some preparation, know-how and patience.
Preparing to Build Your Tri-Fold Door
To start, measure the height and width of the opening using a tape measure. Once you have these figures, subtract about 1 inch from each side to accommodate the door hinges. Then, divide the remaining figure by 3. This measurement is the size of each of the panels of the triple door.
At this point, you'll need ample space to work, as you'll be cutting and working with large pieces of wood. You can begin cutting your wood to make the doors. Use a table saw to cut three pieces of plywood according to the measurements you made. Always use protective handwear and eyewear when using tools like saws.
You also need to cut pieces of wood for vertical framing. Take six 1-inch by 2-inch boards and cut them according to the width of each panel. This step will give you two pieces of framing for each panel. Finally, make the horizontal framing by cutting an additional six 1-inch by 2-inch boards. Cut them 4 inches shorter than the width you found in the first step.
Building Your Trifold Door
Lay each of your plywood panels on the ground. Assemble the vertical and horizontal pieces of wood around the outside to make a frame. Attach them with an electric drill using 1 1/2-inch screws spaced about every 12 inches and in the corners. Repeat this step for each panel.
Put each of the panels next to each other on the ground with the framing facing the floor. They should line up vertically with about 1/4 inches of space between them. Lay the hinges before attaching them. Place three hinges evenly: one at the top, one at the bottom and one in the center. Lay them so they swing upward toward you.
Do the same for both 1/4-inch gaps with the spacing but lay the second set so they swing downward and away from you. This placement will allow the trifold doors to "fold" as they open. Attach the hinges with an electric drill using 1/2-inch screws.
Installing Your New Trifold Door
To install the door over the opening, you can use a few different methods. You can use a hinge on one side of the door and the wall or door frame to allow it to swing open.
You can also use a tracked method on top of the door to slide on the track as it opens and closes. This is the sturdiest option. You can purchase the track hardware from a hardware or big-box home store. Be sure to measure the width of your opening and follow the manufacturer's instructions to install it.