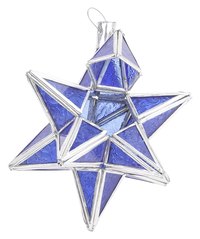 Every culture has unique holiday traditions. Christians in the Philippines turn the tropical nation into a festival of star-shaped lanterns known as "parols" when the Christmas holidays approach. These traditional Capiz-shell-embellished stars hang everywhere as symbols of joy and hope, but it's a good idea to proceed with caution when wiring your parol lantern. Manufacturers and crafters wire and install sockets first, even before they attach the Capiz shells or rice paper to the star's framework, so muster some patience as you tackle this project in reverse order.
Things You'll Need
Vise
Lantern
Multi-socket cord
Mini-bulbs
Craft knife
Long tweezers
Tape
Soldering gun
Solder or adhesive
Wire
Long Q-tips
Identify a logical entryway into the interior of your Capiz parol lantern, preferably at the top of the unit if the lantern is to be suspended, or at the bottom or base if the Capiz parol is engineered to sit atop a table or stand. Gently place the parol into a vise or otherwise stabilize it so you can remove a section of the star to create an entryway for the wiring and lights.
Carefully remove one shell or one section of rice paper, using a thin craft knife so you don't splinter adjacent segments of the rice paper or Capiz shells. Wrap the newly made opening with a thin piece of tape to strengthen and bind it, thus preparing it for the insertion of the wiring and bulb attachments.
Use a long tweezers or another type of clasping probe to carefully thread one each of the multi-light socket network segments so one tiny bulb and its wiring is seated within each of the star's points. Glue or solder each to the bamboo or wire frame using a long Q-tip or stick so the light bulb is attached to the star point's framework. Allow the adhesive or solder to dry.
Gently pull all of the light wires through the opening you created at the top or bottom of the parol lantern. Bundle the wires together at the base and secure them with a piece of wire. Add additional adhesive to the star's internal workings before extending the power cord to an outlet to test the wiring within the Capiz parol lantern.