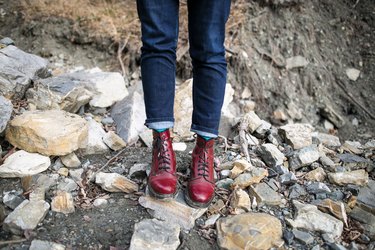 Classic leather Dr. Martens shoes, the virtually trend-proof darlings of the fashion and music worlds, can last for years with regular care. But that doesn't mean they won't get scuffed or scratched from time to time. Keep yours looking like new – rather than from 1992 – by repairing scuff marks as soon as they appear.
Things You'll Need
Newspapers

Damp cloth

Welt brush or toothbrush

Pencil eraser or eraser sponge

Cotton swab

Nail polish remover

Edge dressing

Wax polish

Horsehair brush

Polishing brush

Distilled white vinegar

Felt-tip pen
Not Just Keeping Up Appearances
Take the shoelaces out of your Docs and put them aside. Place the shoes onto a few pieces of newspaper to protect your work surface from cleaning products and dirt.
Dampen a soft, clean cloth. Wipe each shoe down with the damp cloth to get rid of any dirt collected on the uppers and sole edge. If necessary, rinse out the cloth and wipe the shoes down repeatedly.
To dig out dirt that got jammed into the sole edge, use a welt brush, which is a brush small enough to fit into the seam and other hard-to-reach areas. You can also use a toothbrush. Scrub the brush along the seam.
Tip
Clean and polish Dr. Martens once every three months, and each time they get wet or heavily soiled.
Let Dr. Martens dry completely before polishing or treating for scuffs.
Erase the Evidence, Retain the Memories
Rub a pencil eraser against scuff marks to remove the discoloration. If a regular eraser doesn't work, use an eraser sponge, and then wipe off the chemical residue with a damp cloth.
For stubborn scuffs, dip a cotton swab into nail polish remover and rub the swab against the scuff mark. Wipe the area with a damp cloth to finish.
Give Sole Scuffs Individual Attention
If the sole scuffs on your Docs won't wipe away and eraser methods are no help, dip a cotton swab into edge dressing, a protective finish that restores the color to soles and heels. Rub the swab against the scuff mark to cover it completely.
Make Them Shine
To get a high, military-grade shine, condition your DM uppers and buff out any remaining scuff marks with a wax polish for leather shoes.
Work a dollop of polishing wax into the leather of each shoe with a horsehair brush or sponge. Move the brush in a circular motion, and don't be afraid to polish hard – Dr. Martens are made to take a beating. Work the wax into all parts of the leather, including the seams.
Let the wax dry for at least five minutes, then wipe off the excess wax with a cloth. Buff out the wax with a polishing brush, using a circular motion, to get a shiny finish.
Tip
Work with black-colored wax for black Docs, cherry-colored wax for red Docs and neutral-colored wax for all other colors.
Unshakeable, But Not Unbreakable, Style
Easily mistaken for scuffs, scratches on your DMs are actual damage to the leather itself, not just the original wax layer. Don't waste time regretting wearing your favorite pair of Docs out on the street – they were made to be worn, and although you can't repair a scratch, you can still hide it.
Dab distilled white vinegar onto the area with a cotton swab to make the surrounding leather swell, then buff it with wax to camouflage the scratch.
If the scratch still shows, pick out a felt-tip marker in a similar color to your Docs and color it in to make it less noticeable.
Tip
In a pinch, a thick moisturizer will work much the same as wax polish.