Things You'll Need
Safety glasses

Work gloves

Dust mask

Angle grinder with carbide or diamond blade

Replacement piece of HardieBacker board

Hammer

Nails

Pry bar

Floor scraper

Thinset mortar

Notched trowel

Mesh tape

Utility knife

Pencil

Tape measure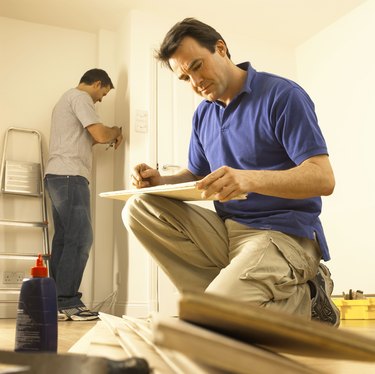 HardieBacker is a cement board available for use with ceramic tile installations and is a very durable underlayment. However, accidents can happen and if for some reason your Hardie board has suffered damage you need to repair the offending section to ensure the structural stability of the overall tile installation. While repairing the area isn't physically challenging it does require some spare time and access to some basic hand tools and power tools from your local home improvement store.
Step 1
Cut out the area where the cement board has suffered damage. Attach the appropriate blade to the angle grinder. Push the blade down so that it will cut into the board and then pull the trigger. Hold the grinder with both hands and cut down into the board. The average depth for floor Hardie board is a 1/4 inch and for walls it is 1/2 an inch, so cut accordingly.
Step 2
Use the pry bar to pry the pieces of broken Hardie board out of the way and scrape the floor free of thinset mortar until you are back down to the base layer beneath the underlayment.
Step 3
Measure the area and cut a piece of new Hardie board to replace the old. Cut the piece with the angle grinder. Spread a layer of thinset mortar onto the installation area with the notched end of the trowel and push the piece of board down into place. Nail it every three to four inches to secure it.
Step 4
Cover the seams with mesh tape, such as what is used for installing drywall. Take the remainder of your thinset mortar and use it to mortar the wire mesh tape to the face of the board along the edges of the joints with the flat side of the trowel. Let the repair dry for a minimum of 24 hours before installing tile on top of it.
Warning
Wear safety gear when cutting Hardie board.