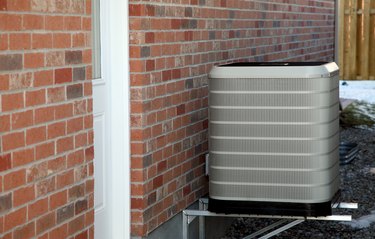 Programmable thermostats and heat pumps both help homeowners manage energy comsumption. To go along with Trane TAYSTAT500C heat pumps, Honeywell manufactures the XT500C control to maintain inside temperatures. The compact wall unit with a backlit display allows users to set operation times and temperatures, and it even retains information to go into vacation mode or remind you to put in a new furnace filter. Like all thermostats, installation must be meticulous to prevent electrical malfunctions in the system.
Step 1
Remove the existing thermostat, if necessary. Set aside the face plate, unscrew the wall mount and pull it gently from the wall. Note the wire connections and position of any jumper wires — short pieces connecting two terminals inside the unit. Ensure all colored wires match the appropriate letter by each terminal; for example, the white insulated wire should attach to the "W" terminal. Unscrew the wire connectors to complete removal of the old thermostat.
Step 2
Unpack the Trane XT500C thermostat and read any specific installation instructions. Correctly wiring a thermostat is critically important, as a crossed or inappropriate connect could result in damage to the heat pump and HVAC system.
Step 3
Connect the wires coming through the wall to the XT500C unit. Each color should match up to the previous unit, though an exception may be with a blue wire or "B" terminal on the old thermostat. Trane heat pumps, like some other manufacturers, make use of an orange wire to work the unit's reversing valve when heating. The XT500C has an "O" terminal to which you will connect that particular wire. Connect any jumper wires necessary.
Step 4
Screw the back plate to the wall and attach the front cover to complete installation.
Tip
Refer to the owner's manual for any necessary troubleshooting if the unit does not work or malfunctions.
Warning
Do not use the Trane XT500C by Honeywell if you do not have the appropriate number of wires coming from the wall at the thermostat. Improper wiring could cause an electrical short and damage the heat pump.