Things You'll Need
Gentle soap

Lint-free cloth

Glass or ceramic bowls

Oven-safe bowls (optional)

Baking sheet (optional)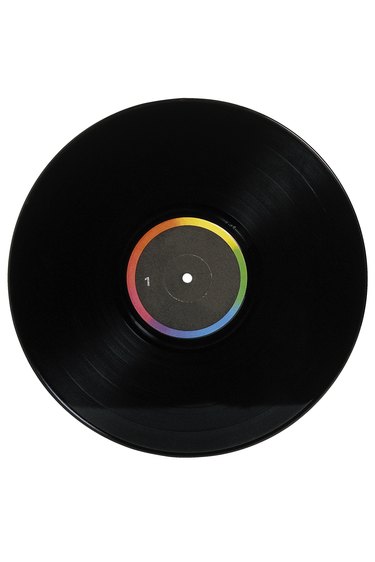 Don't toss your old, scratched and worthless vinyls. Recycle them into decorative bowls you can use as candy dishes, popcorn bowls or just a catch-all for keys, jewelry, craft supplies and other items. These bowls are so easy to make, you can produce several in an hour. Buy an armful of cheap, outdated vinyl records at your local flea market or at a garage sale, and make decorative bowls for everyone on your Christmas list this year.
Step 1
Wash both sides of the record with a gentle soap, and rinse and dry it with a lint-free cloth. This removes any lint, pet hair or other debris that may stick to the record after melting.
Step 2
Place a microwave-safe glass or ceramic bowl in your microwave. Place the bowl right side up or upside down, and sit the record on top. Experiment with both methods as you make more record bowls.
Step 3
Turn the microwave onto the regular cooking setting, and set the timer for 10 minutes. Watch the record as it melts in the microwave and turn off the microwave when the record melts down the outer or inner sides of the bowl, depending on how you have the bowl turned.
Step 4
Remove the bowl from the microwave and pull the record off the bowl with glove- or kitchen-mitt-covered hands. Shape the bowl by hand, as desired. You may also shape the bowl by pressing it between the bowl you placed in the microwave and another slightly larger or smaller bowl.
Step 5
Allow the shaped record bowl to sit for approximately five minutes to cool down and harden before use.
Tip
You may also melt records into a bowl shape by sitting them in or on oven-safe bowls and on a baking sheet in a 200-degree oven for approximately 2 minutes.