Things You'll Need
Fans

White vinegar

Small bowls

Small glass jars

Cotton balls

Vanilla extract

Plastic container with lid

Activated charcoal

Towels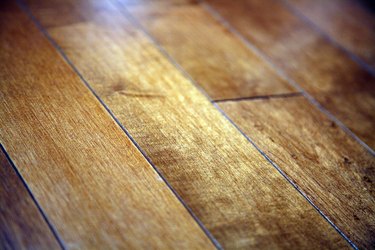 Linseed oil has various uses, including as a painting medium. When added to oil paint, linseed oil provides a transparent and glossy finish and allows the oil paint to flow easier. However, linseed oil will fill the air with an unpleasant odor that lasts for weeks after you have painted the wood floors with the oil. Several methods using inexpensive products will help eliminate the linseed oil from the home.
Step 1
Open windows for more air and run fans to increase circulation. Keep the fans and windows open for several hours.
Step 2
Pour undiluted white vinegar in several small bowls and set around the room. Leave the bowls in the room for 24 hours to remove odors in the air.
Step 3
Fill a small glass jar with cotton balls soaked in vanilla extract. Set the jars near the wood floors to fill the air with a pleasant aroma.
Step 4
Poke holes carefully in the top of a plastic container's lid. Add activated charcoal inside the plastic container and cover with the hole-filled lid. Place the container in the room with the wood floors to absorb linseed odors from the air.
Step 5
Mop wood floors with a mixture of 1 cup of water vinegar and 1 gallon of warm water. Wipe the floors dry with a soft cloth. The vinegar will remove odors trapped in the wood floors.