Things You'll Need
Household bleach

Paper towels

Rubber gloves

Clean towels

Measuring cups

Borax

Lemon juice

Container

Nonabrasive sponge

White vinegar

Table salt

Lemon

Sharp knife

Nylon sponge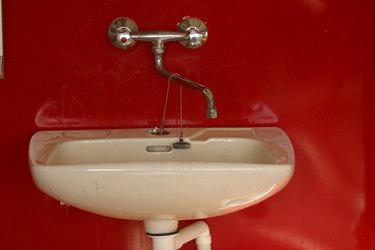 Porcelain sinks have been in use for more than a century. Older sinks were made of cast iron coated with porcelain. Newer porcelain sinks have a stainless steel base. While porcelain is quite durable, it can easily get marks and stains on it. Pots and pans and silverware, for example, can leave black marks. There are a few different ways to clean a porcelain sink so it looks as good as new.
Step 1
Open the windows and doors to ventilate the area well. Line the bottom of the sink with several paper towels. Carefully saturate the towels with bleach. Allow the bleach to soak for 15 to 30 minutes. Put on gloves. Rinse the towels out well, then discard them. Rinse the sink well and dry it.
Step 2
Mix together 1 cup borax and 1/4 cup lemon juice. Use a sponge to apply the paste to marks in the sink. Rub to remove the stains; rinse well with warm running water.
Step 3
Place the stopper in the porcelain sink. Turn the hot water on. Measure out and pour 3 cups of white vinegar into the sink under the faucet. Shut the water off when it's deep enough to cover the marks. Allow the vinegar to soak for 4 hours. Drain the sink and scrub the marks off with a sponge.
Step 4
Sprinkle table salt on the marks until they are covered. Cut a lemon in half with a sharp knife. Squeeze the juice on the salt. Scrub the porcelain with a nylon sponge. If the marks are resistant, let the salt and lemon juice soak for an hour. Apply more lemon juice and scrub again. Rinse the sink well and dry it.
Warning
Test a small, inconspicuous area of the porcelain sink first before using any chemicals on it to make sure it won't mar the surface. Don't use bleach on antique porcelain, or on colored porcelain. Don't mix bleach with any other chemicals.