Children love having themed parties, especially if it is for a birthday. Themes can be as varied as princesses or toy cars. In fact, some children enjoy a jungle or safari themed party. Activities can include pin-the-tail on the tiger or creating paper snakes. Another fun activity is creating safari hats. Each child can create their own hat with personalized decorations and colors.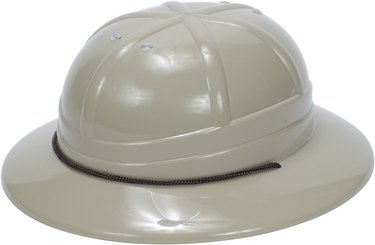 Things You'll Need
Crayons

Tape

Staples

Paper Plates

Scissors

Markers

Crepe Paper

Stapler

Ribbons

Paper Bowls

Yarn
Step 1
Cut the center of the paper plate out with scissors and discard. Keep the remaining plate edges for creating the safari hat's brim.
Step 2
Place the paper bowl upside down in the middle of the paper plate's opening. Attach the paper bowl to the paper plate edges using tape. Make sure to tape all attachment points between the bowl and plate. Turn the hat around on the table and visually inspect it to confirm that all connection points are taped. This will prevent the hat from separating while the children wear it.
Step 3
Ask the children to decorate their individual hats. Color the surface with jungle themed crayon colors or markers, such as green, beige or brown. Alternatively, children can glue crepe paper or ribbons to the hat's surface for a camouflage effect.
Step 4
Staple the end of a piece of yarn to the inside of the paper bowl where it meets the brim. Place the hat on the child's head. Stretch the yarn below the child's chin and up to the opposite bowl and plate connection point. Cut the yarn at this connection point.
Step 5
Remove the hat from the child's head. Staple the yarn to the hat to make a chinstrap for the safari hat.
Tip
Make sure to leave some slack in the chinstrap yarn. The child must be able to take the strap and hat off easily to prevent the yarn from detaching from the hat.
Warning
Verify that all staples on the hat have the smooth side facing the child's head so staples don't poke the child.