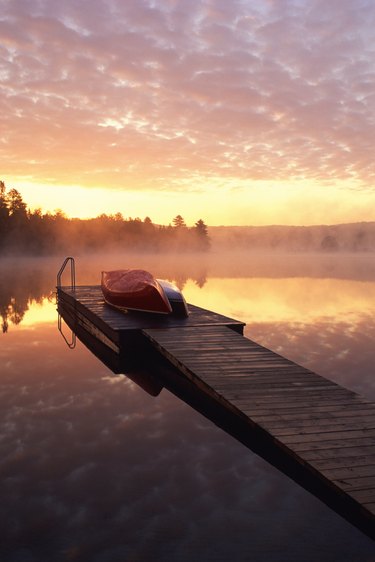 Painting a landscape involves understanding the way the trees, grass and flowers look, how the wind blows and where the shadows from the sun and moon hit the world. A sunrise and sunset can feel similar and difficult to separate, but there are a few key differences between the two. Sunlight passes through more air during sunrise and sunset, which causes the colors to be more noticeable, according to Science Daily. Using the color and effects associated with the sunrises and sunsets will additionally help you express whether the painting shows a sunrise or sunset. You can painting a sunrise or sunset with any type of paint, each allowing for slightly different results.
Sunrise
Step 1
Wake up early and watch a sunrise. A sunrise is when the sun appears in the sky and daylight arrives. Take pictures and make notes of what you witness while the sun is rising. The Earth rotates toward the east, which is where the sun rises.
Step 2
Consider your surroundings when painting the sunrise. If you are painting a field or nature-heavy landscape, there will be a lot of dew and mist in the early morning. A house may not yet have its lights on inside because the occupants are still asleep. The roads would be mostly empty, but there may be an angler or two on the lake, waiting.
Step 3
Capture the colors of the sunrise. A sunrise tends to lighten the sky with pastel shades, such as purple, pink, blue and orange. The sun lightens the clouds with golden yellows. The moon may still be visible, but the day is pushing away the night.
Sunset
Step 1
Sit out on a nice evening and watch the sunset. The sun sets in the west. Take notes and pictures of your surroundings. Watch animals or people, depending on your location. On a warm summer evening, watch the insects -- such as lightning bugs and moths -- start to appear.
Step 2
Paint the day as it comes to its end. In the evening, especially during nice weather, people will still be outside or up in their houses. Street lamps will come on, as will the lights in the houses. Cars will still be on the road, or a couple may be walking on the beach. Children might still be finishing their baseball game in the park, or running home before dark. Nocturnal animals will start to stir. Shapes become shadows as the darkness envelops everything.
Step 3
Capture the colors. A sunset tends to have brighter and more vivid colors than a sunrise, such as sharp pinks, oranges and reds. Clouds become hidden in the darkness and the stars start to shine. The moon starts rising and shines a silvery light.