Things You'll Need
Measuring tape

26- to 30-gauge heavy-duty aluminum foil

Heavy-duty scissors

Pliers

Oven mitts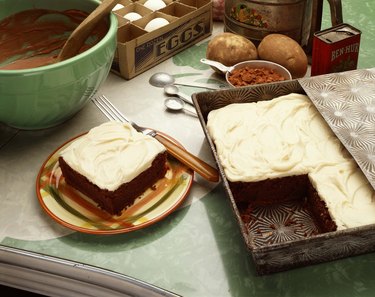 Making an aluminum foil pan is one way to improvise during a cooking crisis. If you find yourself absent a cake pan, for example, heavy-duty aluminum foil will come in handy. An aluminum foil pan can be used for a one-time cooking endeavor. Employing a 26 to 30 gauge foil sheet to form the pan provides much needed weight bearing stability and durability while the cake is baking.
Step 1
Measure and cut a 26- to 30-gauge heavy-duty aluminum foil sheet 6 inches longer and 6 inches wider than the size of the cake. If your recipe makes a 9-by-9-inch cake, for example, you need one 15-by-15-inch heavy-duty aluminum foil sheet.
Step 2
Fold each edge upwards 3 inches high. Press, pinch and crimp the edges with pliers to ensure a secure bond. The surface of the area of the pan is now 9 by 9 inches with four 3-inch-high sides.
Step 3
Put on a pair of oven mitts to remove the hot aluminum foil pan from the oven.