Things You'll Need
Rubber gloves

Safety goggles

Five-gallon bucket

Measuring cup

1 gallon of water

1 cup of hydrogen peroxide

Paint-stirring stick

Funnel

Plastic spray bottle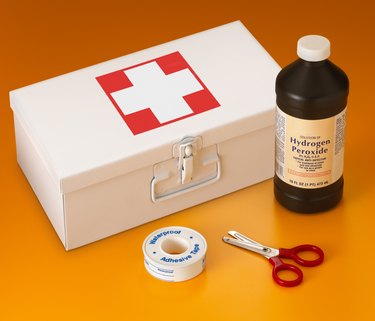 After performing some routine maintenance on your garden, you notice some fungus growing on the leaves of several plants and in the grass beneath. Left untreated, fungus can spread over the entire plant and slowly kill it. Though there are a number of commercial fungus removers available on the market, these are often costly and chock full of harmful chemicals. Using diluted hydrogen peroxide, you can kill the fungus quickly, cheaply and safely.
Step 1
Don your rubber gloves and safety goggles to protect yourself while handling the hydrogen peroxide.
Step 2
Pour a gallon of water into a five-gallon bucket. Measure out 1 cup of hydrogen peroxide and add it to the bucket. Stir thoroughly with a paint-stirring stick.
Step 3
Place the funnel in the mouth of the plastic bottle. Pour the mixture carefully into the funnel until the plastic spray bottle is full. If desired, fill extra spray bottles with the rest of the mixture.
Step 4
Fit the nozzle over the top of the bottle. Adjust the size of your spray by rotating the nozzle clockwise for a jet-like stream, or counterclockwise for a large burst of solution.
Step 5
Hold the bottle three to four inches from the fungus on your grass. Spray the area with a generous misting of solution, ensuring that it is kept away from neighboring plants.
Step 6
Repeat spraying once a week or until the fungus does not reappear.
Tip
Hydrogen peroxide can also be used to kill fungus in your soil.
Warning
Avoid spraying the solution near pets, young children or delicate plants.