Things You'll Need
4 cups flour

1 1/2 cups water

1 tsp. alum

1 cup salt

Mixing bowl

Food coloring (optional)

Cookie sheet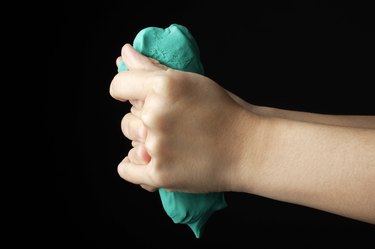 Bakeable clay gives you the opportunity to harden your clay projects into keepsakes or decorations that will last indefinitely. Pottery artists use kilns to fire clay at high temperatures and achieve a strong finished product. Not everyone has access to a pottery studio for the use of kilns, throwing wheels and earthenware clay, but you and your children can create objects on a smaller scale with a homemade clay recipe.
Step 1
Stir together 4 cups of flour, 1 1/2 cups of water, 1 tsp. of alum and 1 cup of salt in a large mixing bowl with a mixing spoon until the consistency is smooth, but thick.
Step 2
Color the clay with food coloring if you choose. To do this, separate the mixture into as many pieces as you want colors, in smaller bowls. Add food coloring two drops at a time, and mix the coloring into the clay until you reach your desired color. Use a different color for each separate bowl.
Step 3
Preheat your oven to 250 degrees and allow it to warm up while you sculpt your clay project.
Step 4
Place the sculpted project onto a cookie sheet and bake it for about 30 minutes.