Things You'll Need
Broom

Vacuum

Dry cloth

Dish soap

Bucket

Mop

Clean cloths

Polish

Cooking pot

Black tea bags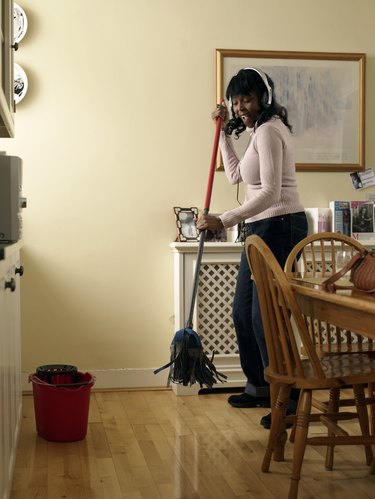 Prefinished hardwood can lose its shine over time. Dust and dirt accumulate on hardwood floors, leaving them looking drab and dull. Refinishing the floor is typically not an easy option since you cannot be sure how deep the finish goes into the wood. Cleaning and buffing the hardwood surface can help return the shine and protect the finish. Regular maintenance of the prefinished hardwood will help preserve its rich and bold appearance.
Step 1
Sweep prefinished hardwood floors with a soft bristle broom. Use a vacuum to remove dirt from around baseboards. Wipe away dirt and dust on all other types of prefinished hardwood, such as furniture, with a dry cloth.
Step 2
Fill a bucket with warm water and 1 tbsp. of dish soap. Mop prefinished hardwood floors with the soap-and-water solution. Dip a clean cloth into the solution to clean all other types of prefinished hardwood.
Step 3
Dip the end of a clean cloth into a prefinished hardwood polish. Use a floor polish to add shine to floors or a furniture polish for hardwood furniture. Buff the hardwood by rubbing the cloth in small, circular motions.
Step 4
Boil 3 quarts of water in a large pot. Remove the pot from the burner once it has reached a rapid boil. Drop 20 black tea bags into the pot. Allow the tea bags to soak in the pot for 15 minutes.
Step 5
Dip a clean cloth into the black tea. Squeeze the cloth to remove the excess tea. Wipe the surface of the prefinished hardwood in long, even strokes. Always wipe the hardwood in the direction of the wood grain.
Tip
Apply a thin layer of polyurethane gloss over a prefinished hardwood floor if you want to have maximum shine. Do not let bubbles form when "painting" the gloss on the hardwood. Wipe up spills on hardwood floors immediately. Clean the area prompty with a prefinished hardwood floor cleaner. Remove shoes when walking on prefinished hardwood floors. A no-shoes rule will reduce the amount of sand and dirt on the floor surface.
Warning
Do not use floor polish on furniture or furniture polish on floors. Make sure the product you are using to add shine is made specifically for the purpose you are using it for. Avoid using oils to buff the prefinished hardwood surface. Oils can result in a slippery surface and are difficult to remove. Never use wax on a prefinished hardwood surface. Wax can cause a film over the surface of the hardwood and leave the finish looking dull.