Few things scream "Good morning!" like a freshly baked banana nut muffin. This simple recipe uses one bowl and needs no equipment other than a spatula... and a potato masher.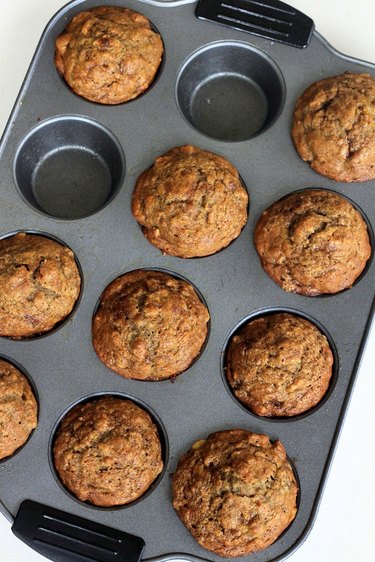 Things You'll Need
4 very ripe bananas

1 egg

1/4 cup unsalted butter, melted

1 1/2 cups flour

3/4 cup brown sugar

1 teaspoon baking soda

1 teaspoon cinnamon

1/2 teaspoon salt

1/2 cup chopped pecans or walnuts
Getting Started
Preheat the oven to 350 degrees, F.
Coat a 12-cup muffin tin with non-stick spray or use a paper towel with a little butter to rub inside each cup.
Peel the bananas and place them in a large mixing bowl. Use a potato masher to smash the bananas into mush. (A fork would also work for this job, taking a few more minutes.)
Add Other Ingredients
Add the melted butter and egg to the banana mixture, stirring to incorporate. If using the microwave to melt, cook in 15 second intervals.
In goes the brown sugar. Stir again.
Moving fairly quickly, add the flour, baking soda, cinnamon and salt, and then give the whole batter a good stir.
Add the Nuts
Half a cup of nuts gets incorporated at the end of the mixing process. Pecans work beautifully but walnuts are a good choice too.
Stir until just incorporated. Avoid over-mixing and the muffins will come out fluffy.
Fill the Pan and Bake
Use a 1/4-cup measuring cup to dole out the batter into your prepared muffin pan. A silicone spatula is a great tool for scooping out all the batter. Muffins should be nearly filled to the top.
Tip
An ice cream scoop would also be a smart tool for this job.
Sprinkle just a bit of brown sugar on the tops of each muffin.
Bake at 350 degrees F. for 20 minutes.
Allow to cool on a wire rack and store inside an airtight container in the fridge. Or freeze in a zip-lock bag for an instant breakfast on demand.