Things You'll Need
Glass cleaner

Soft cloth

Accent pieces, such as driftwood or sea glass (optional)

Paint or glitter glue pen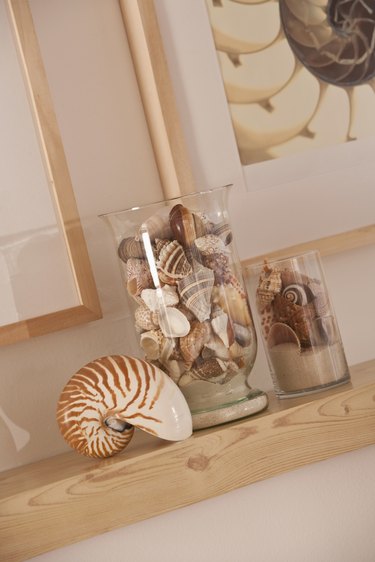 Take a bit of your seaside vacation home by making a "beach in a jar" craft. Use your seashell collection, along with white or golden sand, to create eye-catching home decor. A seashell- and sand-filled jar is an inexpensive way to commemorate a family beach vacation or a romantic honeymoon. Not only will the craft be more affordable than a store-bought souvenir, it will be more memorable and sentimental as well.
Step 1
Choose any size glass jar to hold the sand and seashells. Pick a clear glass jar for easy viewing, or a turquoise glass version to reflect the color of the ocean. Use a glass cleaner and soft cloth to remove any fingerprints from the jar.
Step 2
Stand the jar upright on a flat surface. Fill 1/4 of the bottom of the jar with sand.
Step 3
Insert the seashells into the jar. Use small or large seashells, or a combination of both, depending on the size of the jar.
Step 4
Add accent pieces such as driftwood or sea glass to the jar if space allows.
Step 5
Write the name of the beach the seashells and sand came from, or the location and year of the vacation, on the jar using a paint or glitter glue pen.