Things You'll Need
Red construction paper 12 by 18 (or larger)

Ruler

Scissors

Glue

Tape

Felt-tip pens or crayons

Star-shaped stickers (optional)

Gold glitter glue (optional)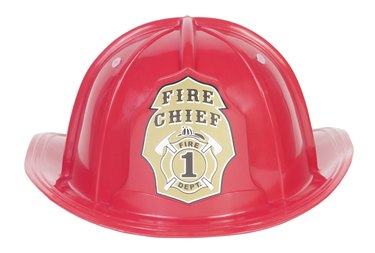 At some point almost every kid will go through a dress-up phase. Pirates, princesses, kings and firefighters are all common themes. Being able to make a fireman's hat out of construction paper is a much easier and faster alternative then heading to a store to buy one. In addition, craft projects help children flex their creative muscles and fine motor skills. Making a fireman's hat easily turns into a fun project for playtime or as a party activity.
Step 1
Cut a strip 3 to 4 inches wide by 18 inches long from red construction paper to form the hat's brim.
Step 2
Create a half-oval shape for the front of the hat from the remaining paper. The width of the base is 6 to 7 inches, and the height of the oval is 5 to 6 inches. Trace an outline for the half-oval and cut it out.
Step 3
Line up the bottom edge of the oval with the bottom edge of the strip. Place the oval in the middle of the strip. Apply glue to affix the half-oval to the center of the strip.
Step 4
Decorate the half-oval with designs done with crayons, pens and stickers. Decoration suggestions include a fire station name, fire chief, numbers, a fire axe or stars. Add gold glitter to color the badge, which should resemble real firefighter hats. Let it dry completely.
Step 5
Wrap the strip around the child's head with the oval to the front and the strip above the ears and the brow. Tape the strip so the hat is tight enough to stay on the child's head. Tape works well because it is easy to cut or resize.
Tip
Assist children when applying glue to ensure they use the proper amount. Try different shapes or sizes to create diverse-looking hats.