Things You'll Need
Bucket or container

Water

Table salt

Boric acid

Copper sulfate

Clothesline and clothes pins

Wicks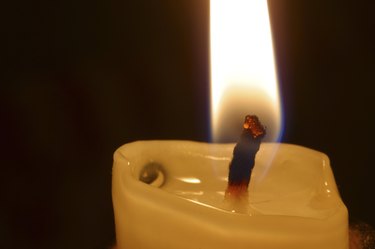 Candle making is one way to get the color and scents you desire. Though candles traditionally burn with a red-orange flame, you can change the color of the flame by making slight tweaks to the wick itself. Adding extra items to the wick soaking process is simple and will produce a brilliant green flame which will give your candles a whole new look.
Step 1
Braid together three 12-inch long pieces of cotton yarn or string. Tie a knot at both ends to keep the braid in place. This makes one wick.
Step 2
Dissolve 1/2 tbsp. table salt, 1 tbsp. boric acid and 1 cup of warm water in a glass or disposable plastic bowl. Stir to dissolve the salt and boric acid. Salt and boric acid are used to prime a wick to facilitate even burning.
Step 3
Add 1 extra tsp. of boric acid or copper sulfate to the mix. Stir to dissolve the added minerals to the base mixture. This extra amount of boric acid or copper sulfate will help counteract the orange flame produced by the salt which was used in the process. Boric acid and copper sulfate both burn green.
Step 4
Soak wicks in the solution for 12 to 24 hours. Hang to dry completely on a clothesline and proceed with making candles. The added minerals will emit a green flame while burning.
Tip
An alternate option to creating a green flame is to sprinkle the dry minerals directly on to a burning candle. Caution must be exercised when using this method as you could cause a chemical reaction if you do not know what chemicals and minerals are already contained in the candle and wick.