Things You'll Need
Picture of a sleigh

2 sheets of plywood

Pencil

Saw

2x4-foot lumber (at least 6 boards)

2x10-foot lumber (at least 2 boards)

1x2-foot lumber (at least 1 board)

Power drill

Interior and exterior screws

Paint (color of choice)

Bells

Holly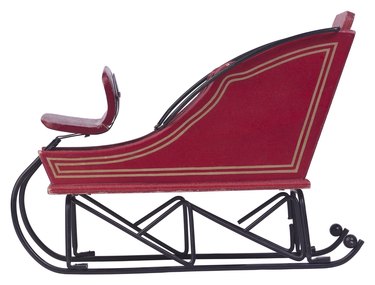 "Oh, what fun it is to ride in a one horse open sleigh." These are famous words from the popular holiday song "Jingle Bells" written by James Lord Pierpont. Add an iconic Christmas decoration to your front lawn this winter season by building your own sleigh from materials that can be found at your local hardware store. Entertain your family and friends with this inexpensive project while getting everyone in the spirit of the holiday.
Step 1
Search for a picture of a sleigh on the internet or in a Christmas magazine to inspire the shape, color, and design you'd like your sleigh to be (see reference 2). Outline your desired actual size for one side of the sleigh on two separate sheets of plywood, then cut each side out with a saw.
Step 2
Cut two pieces of 2-inch by 10-inch lumber, each between 30 and 35 inches long, to serve as the braces for the bottom of the sleigh. Use a drill to screw each brace to the bottom of each plywood side securely. Ask someone to hold the wood in place while you do this, if necessary.
Step 3
Cut out four 2-inch by 4-inch pieces of lumber to serve as the sleigh's front and back panel braces. Screw two braces to the front of the sleigh and two to the back of the sleigh, attaching each top-to-bottom and directly across from the other on each plywood side.
Step 4
Form the seat of the sleigh by cutting a piece of plywood the same width as the sleigh's bottom braces. Cut a brace for each side of the seat from 2-inch by 4-inch pieces of lumber, attaching each to the plywood front-to-back and directly across from the other.
Step 5
Create the sleigh's front and back panels by making two equally-sized cuts of plywood that are the same width as the sleigh. Attach the front and back panels to the corresponding ends of the sleigh using exterior screws.
Step 6
Mount the seat to the sleigh using exterior screws and attach a 1-inch by 2-inch brace to the runners.
Step 7
Paint the sleigh with the colors of your choice and allow time to dry. Decorate the sleigh with bells, holly, and any other festive materials around your home.
Step 8
Choose a location in your front lawn to place the sleigh and position it accordingly.
Warning
Wear protective eyeglasses and gloves when working with wood. This sleigh is for decoration only and is not designed to support an actual horse or passengers.