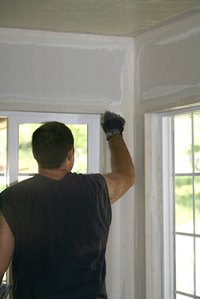 Gold Bond Joint compound, often referred to as "drywall mud," combines with drywall tape to seal joints between sheets of drywall. You can use different types of joint compound on ceilings and walls, each designed for specific applications.
All-Purpose Compounds
All-purpose Gold Bond joint compounds are specifically designed for taping and texturing interior drywall panels. Interior climate remains regulated and fairly uniform year round, while outdoor climate fluctuates from mild to extreme; all-purpose joint compounds will crack when exposed to changes in climate. Joint compound will quickly absorb moisture from the air during humid conditions and will deteriorate when it comes into contact with water.
Setting Compounds
Chemical setting-type joint compounds are similar to cement in that they set instead of drying. This type of joint compound offers low shrinkage and resistance to cracking and humidity. As with cement, setting compounds adjust well to climate changes.
Tips
Use setting type compounds for patching interior and exterior walls. It provides a quick set you can paint the same day. Joint compounds that set instead of dry come in powder form; mix them with the least amount of water possible to provide a workable consistency.