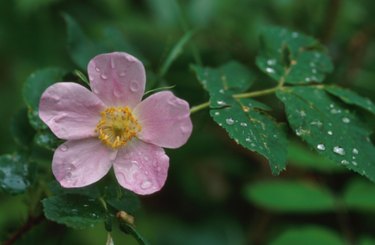 Anyone who is very much into roses probably knows rose flower meanings that are associated with the different colors. The rest of the population is likely aware that red and pink roses are associated with love, and white shades symbolize purity. Still, the other shades can mean similar and different things to both the person giving them and the lucky one receiving the roses. Certain wildflowers and other blooms have interesting meanings as well.
The Meaning of a Rose Flower
For centuries, roses have been prized for their exquisite beauty, colors and fragrance. Paleontologists have found rose fossils dating back to approximately 35 million years ago, and early horticulturists started cultivating them approximately 5,000 years ago. The meaning of roses can include romance, love, elegance, luxury, passion and more. You can never go wrong when giving roses, but you have a better chance of getting your meaning across when choosing the right shade.
The desert rose (Adenium obesum; USDA hardiness zones 11-12) is a wild rose that varies in color from pale pink to fuchsia. The pink rose meaning can be love, platonic love, admiration, care and tenderness or beauty. Paler ones are for gentler emotional expressions, while brighter pinks can indicate romantic love. You don't see long-stemmed varieties of these (succulents); you can give the pretty plants as gifts. Watch out, though, because Victorian folklore specifies that wild roses symbolize pleasure and pain.
In general, someone giving you a red rose usually means that they intend to express romantic love, and the deeper the shade, the stronger the connection. On the other hand, white roses symbolize purity, reverence, faith, true love and elegance. This symbolism is likely why they are so often used at weddings, funerals and other ceremonies. Ivory roses are a step away from that white rose meaning and are given to show feelings of luxury, grace and elegance. These ivory flowers look lovely when mixed with other colored roses.
Yellow roses are given to show friendship but are also perfect for gifts and thank yous because they are associated with hospitality, gratitude, generosity and optimism. Bright orange roses are a sign of confidence, vitality, health and sometimes offbeat love affairs; they also look lovely in fall bridal bouquets and at baby showers. The closely related peach-colored roses make more delicate statements of platonic love, solicitude and admiration.
Wildflower Flower Meanings
Like roses, wildflowers make beautiful bouquets. Wildflowers can always bring a smile to someone's face, and many species also hold symbolic meanings that go back hundreds of years. There are several wildflower flower meanings. Lavender (Lavandula, USDA hardiness zones 5-11) tends to represent healing, black-eyed Susans (Rudbeckia hirta, USDA hardiness zones 3-9) symbolize justice, daisies (Bellis perennis, USDA hardiness zones 4-9) represent innocence and goldenrods (Solidago, USDA hardiness zones 4-8) are a symbol of encouragement.
That's not all, though; other common flowers also have significant meanings. A bouquet of white lily of the Nile (Agapanthus, USDA hardiness zones 3-9) was sent in the old days to let someone know that the giver's love was pure, and pretty purple canterbury belles (Campanula medium, USDA hardiness zones 3b-9a) meant your letter was received. Also purple in color, the hyacinth (Hyacinthus, USDA hardiness zones 4-8) was sent to let others know of their charm and loveliness. Sending floral messages can undoubtedly be more involved than text messages and emails, but it's so much more romantic.