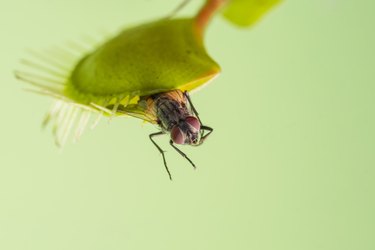 One of the world's best-known carnivorous plants, Venus' flytrap (Dionaea muscipula) is native to a small area that straddles the border between North and South Carolina. These plants live in swamps and bogs and are capable of surviving up to 20 years in their natural environment. Venus' flytrap is winter hardy in U.S. Department of Agriculture plant hardiness zones 7 through 10. Venus' flytraps are threatened by habitat destruction, and it is illegal to collect them from the wild.
Venus' Flytrap Identification
Venus' flytrap is usually about a foot tall. The defining feature of this carnivorous plant is a hinged leaf, each half of which has hairlike bristles that are used to sense prey. When an insect makes contact with these bristles, the leaf halves shift, and Venus' flytrap releases enzymes that digest the prey, allowing the plant to absorb its energy.
The inside of the leaf that traps insects is usually a red or burgundy color. If it is green or light pink, that is a sign that the plant is not receiving enough sunlight. There are various cultivars of this plant, including the 'Akai Ryu' variety, which is known for having large and intensely red-colored traps and foliage.
Venus' Flytrap Growing Conditions
Whether they are grown outdoors or indoors as houseplants, Venus' flytraps need plenty of humidity in order to survive. If you are growing this plant indoors, it is recommended that you keep it in a terrarium covered with Plexiglass. This will help maintain humidity levels. Leave the Plexiglass slightly askew to allow air into the container.
Venus' flytraps grow in soils that have an acidic pH. When watering Venus' flytrap, use rainwater or distilled water rather than water from the tap, which can be too alkaline. It is crucial that you do not let the growing medium dry out.
Sufficient sunlight is also extremely important for Venus' flytraps. Whether you are growing it indoors or outdoors, you want to make sure that the plant receives at least six hours of bright, indirect light while also shielding it from intense sun that can burn the leaves.
Like all other plants, Venus' flytrap relies on a process known as photosynthesis to produce most of its energy. However, some of its essential nutrients come from the insects it consumes. Therefore, if you keep Venus' flytrap indoors, be prepared to feed it live prey, such as small spiders, beetles or flies. The prey should be a third of the size of the trap or smaller.
Note that Venus' flytrap will not consume insects that are already dead because it is the movement of the prey against the hairlike bristles that activates the plant's trapping mechanism. You should never feed Venus' flytrap any kind of meat. Venus' flytraps that are kept outdoors do not need to be fed. Unlike other plants, Venus' flytraps are adapted to growing in soils that have low levels of nutrients, and they do not need to be fertilized. In fact, fertilizer can be detrimental to these plants.