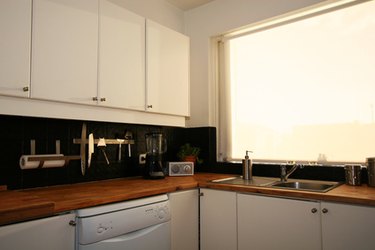 Severe shock can occur in residential plumbing when excessive water pressure is involved. Properly installed hammer arrestors lessen the possibility of damaging the plumbing system. "Shock can cause premature failure of piping, water heaters, laundry machines and valves," says journeyman plumber Tony Marinas.
Function
As water flows through a pipe, it creates movement and pressure. Movement can be controlled by correctly installing hammer arrestors near check valves in addition to proper placement of supports, hangers, and/or strapping. A water hammer arrestor will soften the valve closing, thus deafening the noise by adsorbing the shock of the valve operating.
Types
Water hammer arrestors (piston and chamber styles) are available for residential and commercial usage. Arrestors are threaded, glued or soldered onto the piping. Depending upon piping design, available in stainless steel, brass and copper, and/or PVC schedule 80 materials.
Longevity
Stainless steel constructed (chamber-style) water hammers seldom, if ever, need replacing and are guaranteed for the life of the plumbing. Unlike piston-type units, which have moving parts, chamber-style arrestors have a proven track record, according to Jay R. Smith Mfg. Company, a manufacturer of plumbing and drainage products in the non-residential construction industry.. Piston-type water hammer arrestors are mechanical devices and are prone to failure without notice. Replacement intervals are impossible to predict due to variety of factors.