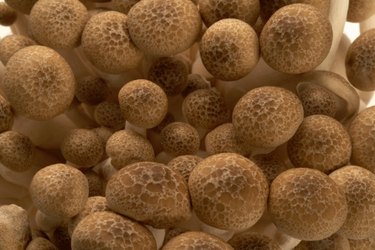 Cultivating mushrooms at home requires providing optimal conditions for these fungi to grow. There are several factors to consider, such as light and growing media, but one of the most challenging aspects to control is often temperature and humidity.
Ideal Temperature and Humidity
Mushrooms grow best in a warm and humid environment, but the ideal temperature and humidity level varies depending on the type of mushrooms that you are growing. These ranges can also change depending on the growth stage of your mushrooms.
For example, if you are growing button mushrooms, aim for a temperature of 75 to 77 degrees Fahrenheit for mycelium growth. The mycelium is the vegetative growth of the mushroom which must form before the mushroom creates the fruiting bodies that you will eventually harvest. Once the mycelium is fully formed, the ideal temperature range for growth is just 53 to 60 degrees. Aim for air humidity levels of about 90 percent.
The ideal temperature for the growth of straw mushrooms, on the other hand, is 95 degrees, although growth can occur at temperatures between 59 and 113. Humidity should be kept at about 80 percent and increased to 90 percent when fruiting bodies are growing.
If the humidity and temperature are not correct for your mushrooms, it can cause problems with mushroom growth. Oyster mushrooms, for example, grow fruiting bodies at a temperature of 55 to 60 degrees, and 80 percent humidity.
If the temperature rises above this range and humidity levels are greater than 80 percent, you may notice the fruiting bodies of the oyster mushrooms may develop small, lighter colored caps with a depression in the middle. High temperatures and a low humidity level below 60 percent can cause the caps to become thin, brittle and umbrella-shaped with a thick stipe, or mushroom stem.
Low temperatures with high humidity, on the other hand, cause strong color and strong fruiting bodies, but the fruiting bodies grow slowly and in reduced numbers. Low temperatures with low humidity levels cause a dark-colored cap and thick or swollen stipe. There will also be fewer fruiting bodies. Specific symptoms may vary in other species, but if your mushrooms aren't growing as expected, incorrect temperature and humidity levels may be to blame.
Controlling Growing Conditions
It is important to set up a growing container for your mushrooms where you can control the temperature. There are a number of setups you can consider depending on your experience level and the type and number of mushrooms you are growing. Make sure to set up the fruiting chamber away from direct sunlight.
You can purchase and set up a small greenhouse for your mushrooms or create your own with a plastic tub. Maintain humidity levels with a humidifier. Alternatively, you can set up a misting system or mist the mushrooms by hand. Make sure you are misting the air around the mushrooms and not wetting the mushrooms themselves which can make them susceptible to diseases such as bacterial blotch.