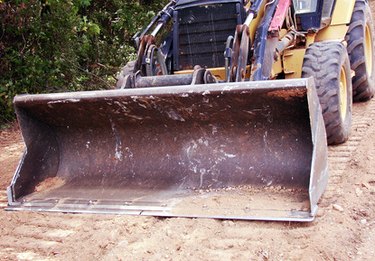 Small and mid-size tractors are indispensable pieces of equipment for owners of hobby farms and large rural properties. Implements and attachments, such as Bulldog brand front-end loaders, dramatically cut the time and effort required to maintain these properties.
Basics
Front-end loaders are hydraulically powered buckets attached to the front end of a tractor via framework and articulating "arms." Front-end loaders are used commonly to move and distribute dirt, gravel and debris. Skilled operators also may use the edge of the loading bucket as a blade for grading work.
Models
Bulldog's 2010 line of front-end loaders consisted of six models designed to fit a variety of mid-size tractors. The Bulldog 282 is the most basic model, with a solid four-foot wide bucket and a maximum lift height of 82 inches. The Bulldog 289 is the largest model, sporting a six-foot wide bucket and a 118-inch lift height. Two versions each of the Bulldog 285 and 287 models fit in between these specifications.
Hydraulic Rams
The Bulldog 285 and Bulldog 287 models are offered in two hydraulic configurations. The standard four-way setup follows the traditional lift and tilt method of moving earth. The height of lift and degree of tilt varies by model. The newer six-way configuration integrates a split bucket, which has the added capability of opening like a set of jaws instead of being one solid scoop.