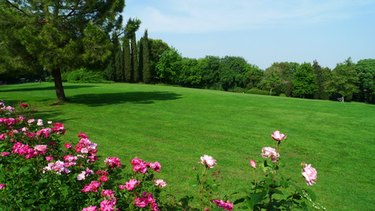 Weed and feed products have three-in-one functionality: They kill weeds, help lawns absorb water and add nutrients. However, it is essential to use them properly, and knowing whether or not you can use weed and feed before rain or if you can apply weed killer after rain makes all the difference. Other things you should know are if you need a preemergent or post-emergent weed killer and the kind of grass and weeds you have.
Weed killers (also known as herbicides) are made with chemicals that prevent weed growth or even kill weeds. Preemergent weed killers are preventative and kill weeds before they sprout. Post-emergent weed killer sprays kill weeds that are already growing.
There are also persistent and nonpersistent weed killers, which continue working to prevent future weeds from forming but do not provide ongoing weed control. A systemic weed killer will kill an entire plant along with its roots, but a topical herbicide only kills the areas to which you apply it. Finally, check if your weed killer spray is selective or nonselective. Selective sprays attack weeds but do not hurt nearby plants. Nonselective sprays can damage everything in the area.
Weed and feed herbicides can really help improve a lawn's overall appearance. These products come in gradual or liquid form. Liquid feed herbicides should be mixed with water, which can then be sprayed on wet or dry grass. Granules can also be spread over wet lawns, which will help the pellets adhere to the weeds. These also come in preemergent and post-emergent varieties.
Weed and Feed Before Rain
Apply weed and feed a few days before it rains. That way, the product has less chance of washing away or getting into waterways. When weed killer washes into waterways, it poses a risk of harming the environment by killing vital plant material and fish. However, since rain can be so unpredictable, you may want to apply weed killer after a rain instead. Do this when the ground is still damp and the grass is dry.
If you want to apply your weed and feed before rain, check your weather forecast before application. Do not apply the product if a thunderstorm or heavy rain is predicted within two days. Light rain showers are probably fine, but weather is unpredictable.
Choosing to apply weed killer after rain is probably the safest bet. Either way, the grass in the surrounding area should be no more than 3 to 5 inches high for the product to work its way into the roots. Since you cannot cut wet grass, you can mow before a rain and wait until it has dried enough to apply the weed and feed.
Tips for Buying Weed and Feed
Weed and feed products contain nutrients to help lawns, including varying ratios of the big three: nitrogen, phosphorus and potassium (NPK). In some states, phosphorous fertilizers are banned, but weed and feeds that do not contain this are fine. If you do not know which combination of NPK is best for your lawn, you can purchase a soil test.
You should also know what kind of grass you have and buy a weed and feed that is designed for it. Cool-season turfgrasses include Japanese lawn grass, Kentucky bluegrass, fescue and ryegrass. Warm-season types are Bermuda, carpet, Saint Augustine and Bahia. Take samples to your local garden center if you aren't sure of the variety. It also helps to know what kind of weeds you are dealing with. Some of the hardiest are dandelions, chickweed, plantain and creeping Charlie.