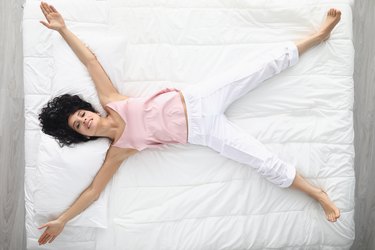 Standard mattress sizes include twin, XL twin, full, queen, king and California king. Although you can find linens for all these sizes, some are less common and have more limited options. California kings (also called super kings) are not as popular as regular kings, but there are many fans who prefer them. These mattresses are a bit narrower but longer than their more-traditional counterparts.
King vs. California King Mattresses
As a guideline, California king mattresses are usually 4 inches narrower and 4 inches longer than kings. Your basic king mattress measures about 76 inches wide and 80 inches long, and the California king is 72 inches wide and 84 inches long. There could be some slight variations in these dimensions courtesy of the manufacturer, so you might want to do some measuring if you need to match the mattress with a box spring or a bed frame. Whichever you pick, you should be able to find enough options in all-foam, inner-spring and hybrid mattresses.
People who own California king mattresses have to buy fitted sheets and bed skirts designed explicitly for these mattresses; regular kings will be too wide and too short. A flat sheet could be good enough but will not be a perfect fit. You don't have to worry about the pillowcases since these reflect the size of the pillows. Most people use king-size pillows on these more extensive beds.
King and California King Bedspreads
Although king and California king down comforters and bedspreads are often used interchangeably, the fit can be somewhat off. If you like your bed looking neat and well styled, it is best to stick with bedding made to match the mattress size. Not only will it be aesthetically pleasing but it will also feel more comfortable. For a king mattress, you'll want a bedspread or comforter that measures 86 to 88 inches wide and 102 inches long. A California king should measure 86 to 88 inches wide and 107 to 110 inches long.
Some companies also make oversize comforters, which are wider than the standard sizes. You might find an oversize king comforter that is 120 inches wide, which is even more than a standard king. People like these oversize comforters because they can feel cozy, but that excess material can get in the way. It can also trail down to the floor, creating a tripping hazard.
A basic twin-size mattress measures 38 inches wide and 75 inches long and is best for younger people, smaller people, vacation homes and extra bedrooms. An XL twin is just 5 inches longer at 38 inches wide and 80 inches long, and these are what you usually find in college dorm rooms. If you're looking for college dorm sheets, you'll have to buy XL twin sheets for your student; this bedding is easy to find just before school starts. People frequently think that full- and queen-size mattresses are the same size, but they are not. A full is smaller at 54 inches wide and 74 inches long, while a queen measures 60 inches wide and 80 inches long; there are no XL options for either.
To ensure that your linens, bedspreads and comforters fit your mattresses, take a tape measure and measure the mattress. Write down this measurement and have it with you when you are shopping. The linen packaging should always be marked with the size category if not the exact measurements. If there is no indication of the linen's size on the packaging, do not buy it and look for one that shows the information you need.