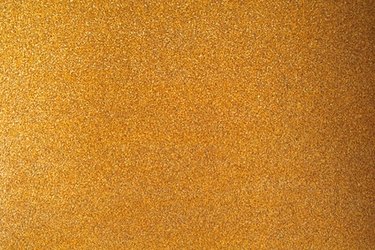 Although most any paint will stick to epoxy, it will eventually peel up unless the epoxy is conditioned to promote adhesion prior to application. Once the old epoxy is properly prepared, there are a variety of paint choices available. However, certain paints are more suitable for particular surfaces depending on their location and function.
Epoxy Paint
Unlike ordinary acrylic latex and oil-based paints, epoxy paint is a two-part coating consisting of a catalyst and a resin. When the two parts are combined, they form a hard, glossy coating. Because epoxy is so durable, it is ill-suited for paint adhesion and must be conditioned or it will reject new paint.
Preparation
No type of paint will bond to unprepared epoxy paint. Because epoxy painted surfaces don't allow adhesion, they must be abraded before they will accept new paint. Sanding the old epoxy finish with a 120- to 220-grit sandpaper will promote adhesion. Using a power sander will ease the process. Once the epoxy has been abraded, any type of paint will bond to it.
Flooring
Because flooring is subject to a large amount of duress, it requires a paint that can hold up to a large amount of adversity. Old epoxy-coated floors should be coated with an acrylic floor paint or another epoxy-based paint.
Rusted Metal
Unless they are galvanized, metallic surfaces will eventually rust when exposed to air and moisture. Often this rust will bleed through epoxy finishes. In these instances, the surface must be coated with an iron oxide primer. Afterward, an enamel paint should be applied because it is best suited for adhering to iron oxide primer.
Fiberglass and Vinyl
Epoxy coated fiberglass surfaces like surfboards and skateboards should be coated with either a fresh coat of epoxy paint or a PPG automobile paint. Ordinary latex paints will not provide enough durability, and oil-based enamels may eventually chip.