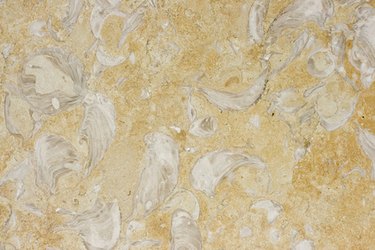 Marble countertops are a fairly common, high-end option for kitchen counters, and are often made available along with granite, ceramic tile and other popular options. Fewer people know about concrete countertops, which are made out of concrete material like the slabs in garages, but carefully treated to give countertops a professional look. Stains, sealants, paints and epoxies can all be used to make a concrete countertop resemble a variety of different stones.
Concrete Countertops
Concrete countertops are poured and mixed just like regular concrete, with a mixture of water, sand and cement. Other particles are often added by manufacturers to give it greater strength or durability. Typical concrete countertops are about one and one-half inches to two inches high. The concrete can weigh as much as two dozen pounds per square foot, but does not usually require extra support. Dyes can be mixed in with the concrete to give it a wide variety of colors.
Marble Counters
Marble countertops, while not as popular as granite, are still a popular natural stone option. While marble cannot handle as much heat as concrete, the tiles or slabs can be cut, shipped and installed more easily. Marble counters tend to be much thinner than concrete, usually three-quarters of an inch. Marble also often requires extra supports, and while it does not come in as many color options as concrete, it is considered a high-quality material that adds more value to a home.
Costs
Costs for both countertops vary. Concrete probably has the widest range, since it can be stained, etched, imprinted and even grinded into shapes, all of which add significantly to the cost. Prices stay between $68 and $150 per square foot. Backsplashes are around $15 to $20 per linear foot. Marble actually tends to cost a little less, ranging from $30 to $100 per square foot, but thickness plays an important part in stone tile, and thicker tile will tend to cost more.
Maintenance
Homeowners must work harder to maintain concrete countertops than marble versions. Both materials are absorbent and must be carefully sealed in order to prevent stains, but the sealants used on concrete must be replaced more often, which can added to the long-term cost. Marble is more fragile than concrete and may require costly repairs if damaged, but when taken care of it generally has a longer lifespan. If properly sealed, both types can be easily cleaned, but cleaners with a high acid content like vinegar should not be used on marble in case the acid seeps below the sealant and stains the stonework.
Installation
Concrete counters can be either precast or molded in the kitchen itself, depending on size. Precast countertops are relatively easy to install and placement costs will be less than the sanding and gluing required for marble tile, which requires extra care to avoid cracking. Curing the concrete in the house is a longer, most costly process, which may make marble installation cheaper.