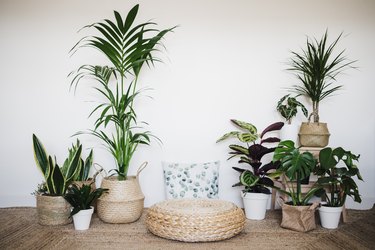 As much as we adore houseplants—The color! The oxygen! The new leaves!—there are plenty of reasons why you may want to opt for an artificial plant instead of the real deal. Perhaps you suffer from a not-so-green thumb, killing every fiddle-leaf fig tree within a five-mile radius. Maybe you travel too much to properly give your rubber tree and pothos the water and attention they need, or drown your succulents in too much water and attention. The reasons go on and on, from lacking enough natural light to having allergies to owning curious four-legged friends to simply having lived through too many plant funerals.
The good news: There are plenty of realistic-looking fake plants you can buy instead. These aren't the dusty, oh-so-fake-looking silk plants you may remember from the '80s and '90s. These days, artificial plants are nearly indiscernible from the real thing, with vibrant colors and life-like branches. Best of all, they don't need water, never drop leaves, and never are infested with those annoying little gnats either.
We shopped a few of our favorite retailers—Amazon, Wayfair and Walmart—for the best of the best fake plants that will liven up your home in no time. We're impressed with their quality and think you will be too.
What to Consider When Buying Fake Plants
‌Shape and Color:‌ If an artificial plant is a little too perfect, it'll scream "look at me—I'm fake!" It shouldn't be too glossy, too symmetrical or too flawlessly green. Variation in shape and hue, like variegated and budding leaves, is key. Some artificial plants come with wires, so you can bend the stems to a more lifelike shape.
‌Dusting:‌ While fake plants require much less maintenance than live ones—no water, no repotting, no fertilizer—don't let them get caught with a layer of dust. (That goes for your real plants too! Dust blocks their pores, depriving them of the sunlight needed to create the food that allows them to grow.) A quick swipe of the leaves once in a while will ensure they look as real as possible and not like an afterthought.
‌Pots:‌ Do the fake plants you're considering already come in a pot? If not, you'll want to add one of those to your cart too. You aren't limited to ones with drainage holes either—hooray! Consider topping your faux plants with dirt or moss to make the environment of your artificial plants as real as possible too.
Ready to add some color to your space with no watering schedule necessary? Read on for 10 of the best realistic-looking fake plants.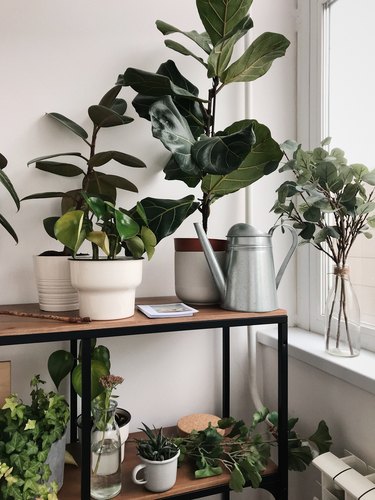 A Bamboo Plant That Won't Grow Any Taller
There's nothing cheap about this artificial bamboo plant, but it's definitely more budget-friendly than buying a new bamboo plant every year when you inevitably kill a real one. (Oops!) This 6-foot tall option features a real wood trunk with vividly colored leaves and natural tone stalks—you could fool just about anyone into thinking this one is real. Plus, it comes in its own 6.5-inch diameter pot, ready to be put on display in your home straight out of the box.
A Pre-potted Lavender Centerpiece
Greenery is great. Greenery with a pop of purple, like this artificial lavender plant, is even better. This little cutie, measuring 10 inches high and nearly 4 inches in diameter, can add a dose of liveliness anywhere in your home, from a desk to a windowsill to a dining room centerpiece. While this plant won't provide the unmistakable lavender scent, it will undoubtedly bring you delight and stays in bloom all year long.
An Elegantly Trailing Eucalyptus
Some of the best faux plants are cascading or hanging plants. Why? You can place them anywhere—in kitchens, in hanging baskets in bathrooms, on tall shelves—regardless of how much light the space gets. Plus, no one can peek into the pot to see that it's topped with tiny rocks instead of soil. And best yet, there's no need to reach up to water it! The trailing eucalyptus leaves on this potted plant gently spill over the side in a realistic fashion, providing always-necessary color and texture to any room in your home.
An Unfussy Fiddle-leaf Fig
If you've cursed and cried your way through owning a real fiddle-leaf fig, we feel your pain. They are notoriously one of the more fickle houseplants, requiring a lot of light and—even with plenty of light—tend to drop leaves out of seemingly nowhere. Save yourself the anguish while still basking in their beauty and opt for an artificial one instead. This one is 66 inches tall, with lush natural-looking green leaves and a realistic trunk. It even comes with a woven rattan basket with handles for carrying. All your friends will "ooh" and "ahh" at your thriving fiddle-leaf fig.
We're suckers for the twisted trunk and abundant leaves of a ficus tree, until we accidentally overwater it, giving it root rot, or provide too much direct light, sunburning the leaves. That's where this high-quality artificial tree is a godsend, allowing you to add a serious splash of green to your home without the maintenance of a real one. This faux friend, with its life-like foliage and stalk, is 5 feet tall, so be sure you have plenty of space to provide for it before clicking "add to cart."
A Burst of Color and Texture
A lot of color and a lot of texture, yet overall minimalist vibes—that's the look this spiky synthetic grass plant provides. The tall blades bloom in a natural-looking shape, so no one will be the wiser that you haven't tended to this plant with serious TLC. It comes in this geometric-patterned cement pot too, so it's ready to be put on display in any room (how about on a side table in a living room or on a bookshelf?) straight out of the box.
A Two-Pack of Snake Plants
Snake plants, whether real or in artificial potted plant form, are a must for any living room. (Or bedroom or office or any room, really.) Their variegated leaves are sturdy and colorful, with yellow borders that add lots of dimension. The various leaf heights provide a more lifelike feel too. Once this two-pack arrives, reshape the leaves to your liking, then sit back and do nearly nothing to them, minus an occasional dusting.
A Trio of Potted Succulents
Consider this trio of faux succulents a sampler platter of home decor. This set includes a mini artificial snake plant, a string of pearls and a hops succulent. Arrange them together on a coffee table, since their coordinating geometric pots look oh-so-good together, or break them up to provide a little color here and a little color there anywhere in your home. The best part about fake succulents? You never have to worry about overwatering them, a common reason for killing them.
A Statement-Making Bird of Paradise
Birds of paradise are one of the most rewarding plants. There's nothing quite like watching one of its giant spires unfurl. Sometimes they annoyingly don't unfurl though, maybe because you don't live in a tropical environment or maybe because the plant is simply stubborn. That's when a faux bird of paradise palm tree is ideal. With this one, you can slowly bend the artificial greenery to your liking so the stems look as realistic as possible. You may want to split some of the leaves too—that'll help it look more realistic. You'll need a pot for this one though. Our advice: add a woven seagrass basket to your Amazon cart too.
A Monstera in a Trendy Ceramic Pot
If your home doesn't have a monstera plant (or Swiss cheese plant, hurricane plant or split-leaf philodendron—there are lots of names for this fan favorite), here is your chance to start with a miniature faux one. It looks nearly natural, especially thanks to its budding (fake) leaves and realistic-looking shape. Plus, how cute is that ceramic pot? Place this pretty monstera on your coffee table, desk or bookshelf and bask in its botanical look without all the fuss a real one requires.