The best cake stands add some real wow factor when you serve dessert. The presentation is much more impressive than just placing a beautiful cake on a plate. And, depending on the product you choose, they're not only serving pieces; get one with a lid, and it's a countertop storage and display piece, too. Or, get a rotating cake stand with a turntable base, and suddenly it's much easier to ice and decorate your homemade cakes.
If you don't bake or buy cakes all that often, that doesn't mean you won't get much use out of your cake stand, either. Don't feel boxed in by the name. Use your cake stand for cupcakes, pies, cookies, brownies, croissants, bagels and really just about anything that can go on a plate.
What to Consider When Purchasing a Cake Stand
‌Size:‌ The cake plate surface on standard cake stands is 10 to 11 inches in diameter. And that's just right for standard cakes, which are 8 or 9 inches in diameter. You can find smaller ones, as well as large ones that are usually 12 to 14 inches in diameter. Having a little clear space around the edge is helpful if you're icing your own cakes and maybe piping a border around the bottom. Just keep in mind that the wider the plate—and the taller the stand—the less sturdy it can be.
‌Base:‌ Speaking of sturdiness, the base design is important if you don't want your stand—and desserts—tipping over. Pedestal cakes stands are common, but be sure the base flares out broadly enough to provide stability. Whether you're buying a cake stand with this style base, feet or any other style, go with one that will keep your stand standing. It should also be securely affixed to the plate so there's no wobbling. To note, it's best to avoid a cake stand with a depression or hump where the base is attached to the plate, as this can interfere with plating and cutting the cake.
‌Rotation:‌ Many cake stands have turntable bases allowing the plate to rotate 360 degrees. This can be helpful when people are serving themselves around the table, but its primary purpose is to aid with cake decorating. Rotating the cake makes it so much easier to ice and decorate it. If you ever bake your own cakes, go with a revolving cake stand.
‌Other Considerations:‌ The material is something to think about. Cakes stands are made from glass, plastic, porcelain and other stoneware, metals and wood. The material affects the price, whether it's dishwasher safe and other aspects of care, or aesthetics. Also, some cake stands come with a clear dome, which protects the contents during storage and display. Some cake stand plates have small lips around the edge; this helps keep crumbs off the table or warm glaze from dripping over the edge, but it also makes it trickier to ice and cut a cake. Then there's always the matter of cost. You can spend about $15 on a cake stand, or you can shell out a few hundred bucks, so determine your budget for this purchase.
These factors will help you pick out the best cake stand for your needs and preferences.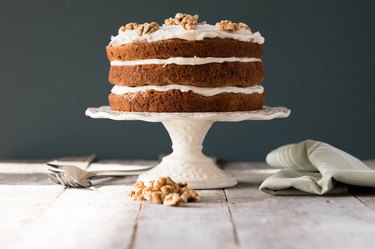 The Best Overall Cake Stand
For a cake stand that combines beauty, quality and dependability, this is a top pick. The lead-free glass stand has an elegant profile with a slightly curved plate and a base crafted with design appeal. The base is broad enough to hold the stand steady and secure, even with an extra-wide plate of 13 inches that accommodates large cakes or a good quantity of other smaller baked goods. It also comes with a tall, straight-sided glass dome that fits over large layer cakes and is topped with a big, easily grasped knob handle. This product is offered at a good price, too. To protect them, only hand-wash this stand and dome.
The Best Budget Cake Stand
If you're not looking to spend much on a cake stand, this budget-friendly multifunctional product is a smart pick. It's plastic, but it's durable and well made. It rotates 360 degrees, so it's useful for cake decorating—especially with the "soft-grip ring" that reliably holds the cake in place. But the product's simple look and wavy design along the sides make it suitable for display and serving too. At only 3.45 inches tall with an extra-wide base, it's also quite sturdy. The base also has collapsible nonslip feet that raise the piece up to 5 inches tall, locking securely and folding under for more compact storage.
The Best Cake Stand for Decorating
This product is perfect if you want a cake stand you can use for decorating cakes that also looks great as a serving and display piece. Made from cast iron, weighing in at 6.4 pounds and featuring a broad base, it's as sturdy a cake table as you'll find. The smoothly rotating 12-inch top accommodates large cakes, and a nonslip pad is included to hold cakes still as you decorate them. The plate is removable for easy cleanup and it's made of aluminum rather than cast iron like the base. So, conveniently, it doesn't require the special care of cast iron.
The Best Cake Decorating Set
If your priority is a cake stand for decorating rather than for display and serving, this may be a better choice than the previous entry—especially if you're looking for a more affordable option or you don't yet have a collection of decorating tools. Even at its low price, this cake turntable comes with five spatulas for cake decorating: Two stainless steel icing spreaders (one straight and one angled), plus three plastic spatulas for various decorating tasks. The product is made from durable plastic and has an ample 11-inch surface and a sturdy base that's nearly as wide. And it rotates smoothly in either direction, so it works equally well for righties and lefties.
The Best Glass Cake Stand
For those who are willing to spend a bit more for an elegant, high-quality glass cake stand, look no further. Choose from small (6-inch diameter), medium (10 inches) and large (12 inches) pieces, and from a variety of attractive color options. The classic design somehow feels vintage and contemporary at the same time, and each one is hand-crafted. But it's highly functional, too; thanks to its wide, smartly designed base, this cake stand is stable (even the relatively tall 9-inch-high large model), and a lip around the edge of the plate helps contain crumbs and warm glaze. You can also separately buy a clear, tall, straight-sided glass dome that covers a large cake.
The Best Porcelain Cake Stand
If you'd like a porcelain cake stand—always a beautiful material for kitchenware you display and serve with—choose this one. It has a sleek, simple and elegant design for an unmistakable touch of class. The 10-inch diameter accommodates any standard cake and the weighted, broad and flared pedestal base holds the stand stable. The plate is entirely smooth and flat all the way across, providing total support for its contents. This lead-free porcelain piece is chip- and stain-resistant, and its glaze makes it easy to wash by hand.
Acacia wood is always an aesthetic choice, so here's a great option if you're looking for a cake stand in this material. It's a low, entirely stable stand with a nearly 12-inch cake surface and a turntable base for a 360-degree spin. Also included is a shatter-proof clear acrylic dome, and there's a groove in the plate that securely holds the lid in place. This durable product will serve you—and your cake—for a long time with proper care, which includes hand washing and prompt drying for the wood piece (which is typical for wood kitchenware). It's also a good price for such attractive, quality acacia wood serveware.
The Best Wedding Cake Stand
Getting married and searching for a sturdy, beautiful and classy cake stand that won't stress your wedding budget? Here it is. The 14-inch diameter easily accommodates large wedding cakes and while the low profile provides sturdiness and a good view of the cake itself, which of course should be the focus of your reception guests' attention. But with its glass top and elegantly designed and shiny gold base, this cake stand will fit right in and look great too. It's also a nice display piece for vases, centerpieces, candles, decorative bowls and more. And it's a piece you'll be happy to use for other special occasions, too.
This cake stand set comes with three pieces: A small with an 8-inch diameter, a medium with a 10-inch diameter and a large with a 12-inch diameter—and you get them all for less than you might spend on a single cake stand. This stocks you to serve cakes of varying sizes, a cake and cupcakes or any assortment of other baked goods, so you're covered for birthday parties, brunches, bridal showers and other gatherings. They're metal and painted with a semi-glossy food-safe white paint and the design work along the sides gives them a nice appearance for placing on your table.