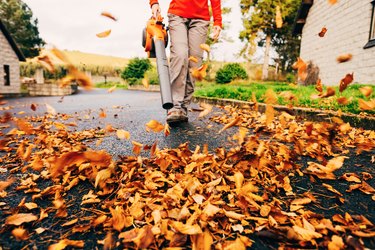 From cleaning up grass clippings, clearing piles of leaves or cleaning up after a storm, a leaf blower is a handy addition to add to your lawn care tools. Instead of spending hours raking and sweeping, a leaf blower makes quick work of debris-filled landscaping or hardscape areas. Once you see how much time and energy a leaf blower can save you and you see that they're much more useful than only for blowing leaves, you'll wonder how you ever lived without one.
When shopping for the best leaf blower for your specific needs, you'll notice there are a wealth of different choices that are powered differently. You have various selections of gas-powered blowers, those that are battery-powered cordless leaf blowers and those powered by electricity. You also have choices in handheld leaf blowers and backpack leaf blowers. It's best to check out all your options and their pros and cons before deciding on the perfect one for your yard work needs.
Below, we cover some important considerations when selecting a leaf blower, whether you have a small or large yard. We also identify some of our top picks of the best leaf blowers on the market from all categories.
What to Consider When Purchasing a Leaf Blower
‌Yard Size‌: The first thing you should consider when selecting the best leaf blower for your needs is the size of your yard and what type of yard work you'll be using it for. If you have a large yard with many trees creating messes and hardscape areas, you probably want a more powerful leaf blower. You might not find it useful to be constrained by the length of an extension cord. However, if you only have a small yard or only a driveway requiring periodic blowing, you can get away with a leaf blower with less power and one that's corded.
‌Leaf Blower‌ ‌Power Source‌: Gas-powered models are the most powerful leaf blowers and are handy for those with larger landscape areas. However, they are noisy and the emissions contain pollutants, so they aren't the most environmentally-friendly choice, but will get any job done quickly. Electric leaf blowers are quieter than gas-powered leaf blowers and aren't as powerful, and users are restricted by the length of the cord or extension cord. They are handy when used close to the home and are environmentally friendly. Battery-powered leaf blowers are cordless, allowing you to move where it's needed and are environmentally friendly. However, they are heavier, due to the battery and restricted to the length of time of the charged battery, and which requires periodic recharging.
‌Power Output‌: When it comes to the power output of a leaf blower, they are rated based on their CFM or cubic feet per minute, which is a measurement of the air volume that is pushed through the unit. The CFM of leaf blowers ranges from 200 to 800, with higher CFMs able to move more debris. Another indication of a specific blower's power is miles per hour (mph), which is the rate of speed air exits the blower. This indicates the distance debris is blown. Leaf blowers typically have an mph rate of 100 to 250 mph. Cordless, battery-powered leaf blowers' power is rated in volts (V) and corded electrical motors are rated by amps (A).
‌Style and Weight‌: Style choices include backpack leaf blowers and handheld models. Handheld leaf blowers usually weigh between three to 15 pounds, with gas-powered models weighing the heaviest. Smaller models usually come with a shoulder strap. On the other hand, backpack leaf blowers are larger and heavier. They are suitable for larger landscapes and distribute their weight evenly on your back, weighing anywhere from around 15 to 30 pounds.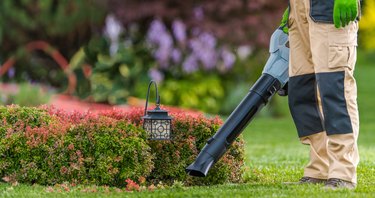 The Best Overall Leaf Blower
DeWalt's battery-powered leaf blower is a good all-around choice for moving leaves and other debris. Its brushless motor operates at 125 mph and 450 CFM and is powerful enough to move wet leaves. It has a variable speed setting with a speed lock so you can set the desired speed on the unit. The blower operates off a 20-volt lithium-ion battery and has a noise level of 66 decibels, and the charger is included. Since it's battery-operated, you don't have the worry of dragging cords around the landscape. It has an airflow capacity of 450 cubic feet per minute. The blower has an ergonomic design to reduce user fatigue, and it's lightweight at 5.4 pounds.
The Best Gas-Powered Handheld Leaf Blower
This two-cycle handheld blower from Husqvarna operates off a gas engine and not only blows debris but also has an attachment for a leaf vacuum and mulcher. It offers 1.1 horsepower, an airspeed of 170 mph and an air volume of 425 CFM. When using the gas blower as a vac, the debris is reduced in size by the mulching knives, meaning you can hold more in the included bag. The gas-powered blower weighs 9.5 pounds and has an ergonomic design so it's still lightweight enough to handle. There's a cruise control setting so you can set the desired blowing speed and adjust the length of the tube. Its engine is designed to start with minimal effort and once you stop the unit, the switch automatically returns to the "on" position. Although it might not be the quietest blower on the market, its powerful design will definitely get the job done.
The Best Battery-Powered Handheld Leaf Blower
This battery-powered leaf blower from WORX sports a brushless motor and turbine fan, making the unit more powerful. It produces an air volume of 430 CFM and an air speed of up to 95 mph, and weighs 7.3 pounds with the battery installed. The battery gauge lets you know how much is left in the battery so you know when you'll need to recharge. There are three speed settings to meet all your blowing needs. The included two 20-volt batteries can be used together on the unit to give more blowing power of up to 40 volts, and you can interchange batteries between different WORX power tools. By being battery-powered, you won't have the constraint of being limited by an electrical cord and with its power, you'll feel like you're using a gas-powered unit.
The Best Handheld Electric Leaf Blower
If you don't have a large landscape area that requires blowing, then this electric leaf blower from WORX can get the job done. At 3.27 pounds it's lightweight and easy to handle with only one hand. The blower operates at 600 CFM and 110 mph. There are two speed settings where you can go slow around corners or on the pavement and switch to a higher power when using it on the open lawn. You can attach an extension cord to the unit's 11.5-inch cord, which allows you to get to those distant areas. There's an attached cord retainer that keeps the electrical cord attached with no worries about pulling it out of the connection as you move about.
The Best Backpack Gas-Powered Blower
If you have a large landscape and you're looking for a heavy-duty and powerful backpack leaf blower that does more than clear leaves, then this gas-powered unit from Schroder is a good choice. The blower has a 63.3 cc, 3.7 hp, two-stroke gas engine with an air speed of up to 230 mph and 920 CFM and will clear dry or wet leaves with ease. The fuel tank holds 1.9 liters of gas and the shoulder straps are padded, adding to the comfort while wearing the 19.5-pound blower with additional back support. This is one of the most powerful gas-powered backpack leaf blowers on the market and is sure to tackle even the toughest jobs with effortless ease.
The Best Battery-Powered Backpack Leaf Blower
If you need to clear large areas of debris but want something more environmentally-friendly than gas-powered units, then this cordless backpack leaf blower from Greenworks is an excellent choice. It is 20% lighter than comparable units operating off gas at 14.64 pounds and has low vibration. When the 80-volt 2.5 Ah battery is fully charged, you have around 18 minutes of battery life while running the unit at top speed. The blower has a variable speed trigger offering variable speed control, as well as a turbo button. It starts every time with the push button start, and there's a button for cruise control when you desire to maintain a certain speed. The comfort grip allows for superior control of the unit, and the padded straps are ergonomically designed adding to your comfort while using.