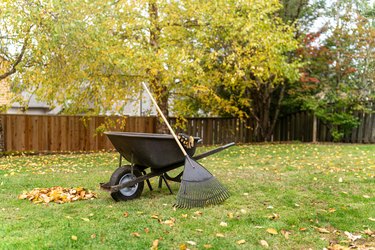 Out of everything you have in your arsenal of gardening tools, a garden rake is one of the most useful. Whether you're gathering fallen leaves, spreading mulch or rock, prepping a garden or amending the soil, you'll need a sturdy rake. Garden rakes not only save time, but also energy, and take the pressure off your back and knees.
However, it's important to have the correct type of rake that's designed to efficiently handle your specific gardening tasks. For example, if cultivating the soil, a leaf rake's long, thin tines won't work as well digging into the soil as a bow rake's shorter and sturdier ones. That's why it's common to have several types of rakes in your collection of garden tools.
Our guide covers some important points you should consider when purchasing a garden rake so you end up with the right choice. We also cover some of our top picks of the best garden rakes that will make those garden chores easier.
What to Consider When Purchasing a Garden Rake
​Type of Rake​: There is a vast selection of rakes, but when it comes to gardening, several choices come in handy. Your typical leaf rake, also known as a lawn rake, has heads of various widths and tines fanning out in a triangle with a long handle. They are suitable for gathering large areas of leaves or other landscape debris. Shrub rakes have narrower heads so they can easily fit in tight spaces typically found between multiple shrubs and plants in flower beds. Bow rakes are built for heavy-duty jobs like moving dirt, stones or mulch and cultivating the soil. They have metal tines that are thicker and shorter than those found on leaf rakes.
​Handle Type​: When it comes to the material of rake handles, you have choices of wooden handles, fiberglass handles, aluminum or steel handles. You can also find rakes with long and short handles, as well as those that are adjustable. Wooden handles are heavy, not weather-resistant and prone to breaking if you use them for heavy-duty tasks. Steel and aluminum handles are more durable and resistant to rusting, with aluminum cheaper than steel and lighter. Fiberglass handles are durable and lighter than aluminum—but can be a bit pricey.
​Extra Features​: You will find rakes with additional features that might come in handy if you use your rake regularly. Some rakes have ergonomic padded handles, making it easy on your hands. Others have adjustable handles, also called telescopic handles, where you can adjust their height to better suit your height. Rakes with adjustable heads allow you to adjust the width of the tines depending on the particular job. Rake heads with grabbers allow you to clean up clippings without having to bend down.
The Best Overall Garden Rake
True Temper Clog-Free Poly Leaf Rake
With True Temper's poly leaf rake's clog-free design, no longer will you have to stop raking to clear the tines of debris. The rake has a 48-inch hardwood handle with an ergonomic cushioned grip making it easy on your hands. Its large, 24-inch poly rake head is the perfect size for working in large or medium-sized areas to get your yard work accomplished. It's great for gardening tasks such as clearing leaves or spreading mulch. It's a good rake for all-around gardening tasks that won't leave your hands feeling worn out at the end of the job.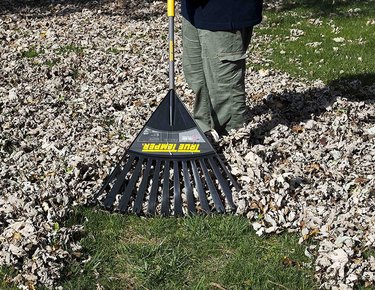 The Best Budget Garden Rake
If you don't want to spend a fortune on a leaf rake, then the Fiskars metal leaf rake will get your gardening tasks completed without breaking bank. The lightweight rake has an extra long handle made from fiberglass and soft grip padding adding comfort to your hands. The metal tines are strong, durable, and made from powder-coated steel, which resists rust. The steel tines are locked in place by metal tabs, so you don't have to worry about them coming loose or breaking. It's the perfect rake for picking up leaves or cleaning flower beds that will last for years.
The Best Adjustable Garden Rake
Reyke Adjustable Leaf Rake
Not only does this Reyke garden rake have an adjustable telescopic handle, but the width of the metal tines is also adjustable. The aluminum handle is lightweight and can be extended to 65 inches long. To lengthen or shorten the handle, you simply twist and it locks in place. The rake teeth are made from galvanized iron that prevents rusting, and the rake's head width can be adjusted from 8 to 23 inches wide. This rake is perfect for getting into those tight spaces in the flower bed or used at its full head size gathering fallen leaves. The handle is padded, making it easier on your hands. Additionally, it won't take up a lot of storage space when adjusted to its smallest size.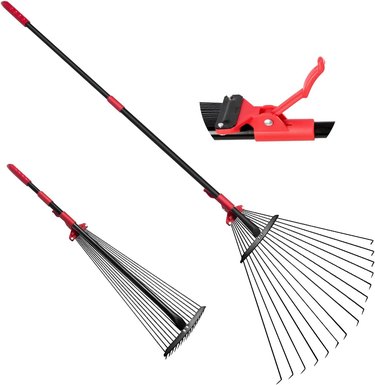 The Best Long-Handled Garden Rake
HOSKO 79-Inch Adjustable Leaf Rake
Using a rake with a long handle takes the pressure off your back, and this leaf rake from HOSKO can be adjusted from 79 inches long down to 24 inches. The expandable handle is ergonomic and the entire rake is lightweight but sturdy and durable. The head is 17.6 inches wide and made up of 25 steel tines that spring back in shape if they snag on something. This is a good all-around landscape rake, whether you're dealing with thatch, fallen leaves, or other debris in the garden. It even has a three-year warranty if you aren't totally satisfied with the rake's performance.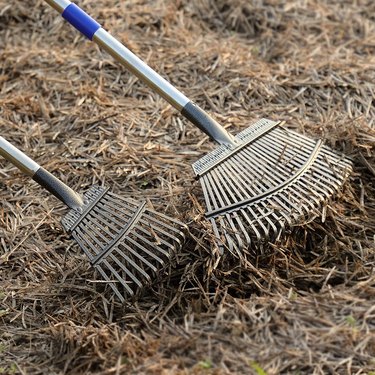 The Best Shrub Garden Rake
Homimp Adjustable Shrub Rake
If you're looking for a good shrub rake that allows you to get into tight spaces in a flower bed or other garden area, then Homimp's adjustable shrub rake won't let you down. It has a lightweight design made of rust-resistant stainless steel, and the handle can be adjusted from 34 inches to 55 inches long. The handle is made up of four tubes that you can remove to make the rake shorter, or add to make it longer. The 8-inch wide steel head has 11 tines and is the perfect size to fit between shrubs or other plants without causing damage. With its adjustability, this is a good rake for everyone's height and alleviates the need to bend. It has a two-year warranty if for some reason the rake fails you or you just aren't satisfied with its performance.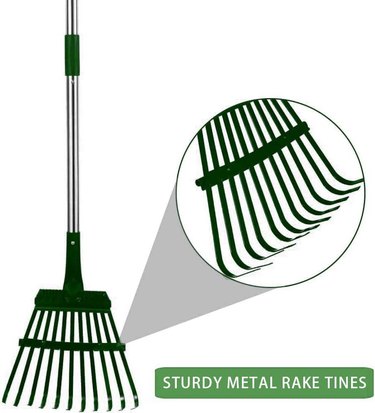 Expert Gardener Long Handle Bow Rake
Whether you're raking rocks, prepping a new garden bed or spreading mulch, a bow rake is up to accomplish the task with ease, and you can't go wrong with this one from Expert Gardener. The rake features a 58.86-inch padded fiberglass handle, preventing back strain from bending over. The bow-shaped wide head is 14 inches wide and made up of 14 welded carbon steel tines that will glide effortlessly through dirt, leaves, rocks or grass. It will work great in cultivating or loosening the soil for your garden. With its weather-resistant handle and overall durable construction, this bow rake will keep working for years.
The Best Extended Reach Garden Rake
Corona 7-Tine Extended Rake
Sometimes, you need a smaller rake with an extended reach handle to use in raised beds or smaller garden areas, and Corona's 7-tine extended rake is the best one. The hand rake is made from durable steel and the handle reaches 36 inches, which is the perfect size to reach across a raised bed or into an area with tight access. The padded trapezoid-shaped handle prevents blisters and adds comfort and control while using the extended reach rake. The top of the steel head has grooves allowing you to smooth the soil, and there are seven steel tines on the other side that are perfect for digging or cultivating the soil. This rake may be small in size, but it is large enough to tackle various big jobs.
The Best Multi-Purpose Garden Rake
Clear N Collect Garden Leaf Rake and Grabber
If you're looking for a multipurpose rake that gathers the leaves in a pile and then assists in grabbing them up, this leaf rake and grabber won't disappoint. The lightweight rake has two wooden handles and a large recycled plastic collection basket. It's quite easy to use. You simply open the hinged basket, and the plastic tines rake the fallen leaves into a pile. Then, you close the basket, scoop up the debris and dump it into a container. The long handle allows the user to keep standing, taking pressure off your back. This multipurpose rake is a useful tool whether you're maintaining a small or large landscape.