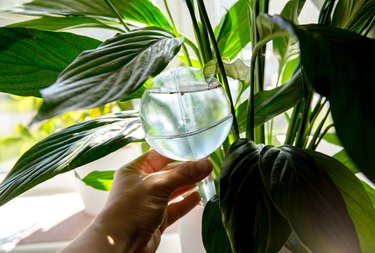 Regardless of whether your container gardens consist mainly of indoor plants, outdoor plants or both, water is essential to their survival. However, if you find yourself with a wealth of hanging baskets and potted plants, giving your plants a regular dose of the right amount of water can be time-consuming. Additionally, if you plan on being away from home, you probably worry about how your precious plants will get a drink while you're gone so they don't die. However, you can alleviate those worries by using self-watering stakes, a type of automatic watering system.
Watering stakes, also known as watering spikes, basically function like a self-watering drip irrigation system. They automatically bring enough water to your plant's roots without the worry of under-watering or over-watering, leading to healthier plants. Watering stakes are an easy-to-use plant watering system bringing a regulated and controlled water flow to your plants for a specific period of time while you are absent. You just need to refill the water source reservoir whenever it becomes empty and the water spikes will do the rest.
Once you've used a water spike in your garden or potted plants, you'll wonder how you ever lived without it. We've outlined some things to consider when selecting the best water spike for your specific needs and highlighted some of our top choices.
What to Consider When Selecting a Watering Stake
​Plant's Water Needs​: It's important to know your specific plant's needs when it comes to how much water is required to produce a healthy plant. Potted plants like succulents and cacti require less frequent water applications than plants like impatiens or hydrangeas. You also need to consider that outdoor plants grown in containers require more frequent irrigation than houseplants due to outdoor conditions like sun and heat. Overwatering can lead to detrimental conditions like root rot. On the other hand, under-watering can lead to wilting and poor growth.
The type of container also affects water intake. For example, containers made out of terra cotta are porous and the soil dries out faster than in plastic containers. Knowing whether your plant is a water hog or prefers a drier growing medium helps in selecting the best watering stake with the appropriate water flow.
​Watering Spike's Material​: The best self-watering spikes are made from eco-friendly material that won't leach toxins into the soil (and then into your plants) and are made from a durable material. You also want to be able to recycle them. If you'll be using the watering spike in your outdoor plants, make sure the material is durable enough to withstand outdoor conditions. It should be weather-resistant enough not to fall apart when exposed to full sun, as well as other outdoor elements.
​Watering Stake's Size​: Make sure you purchase the appropriate size watering stake so your plants receive enough water and so you don't find yourself having to refill it daily. Additionally, you want to consider the pot's size when selecting a watering stake. You don't want to purchase one that's too big and ends up crowding your plant, but you also don't want to buy one that's too small and requires constant refilling. The watering stake should fit comfortably inside the container, allowing your plant to spread out naturally and continue to expel enough water for at least several days of use.
​Water Flow​: Once you know how much water your plant needs, you'll want to purchase a watering stake that has the ability to give your plant the right amount of water. Some plant watering stakes have adjustable valves allowing you to regulate the amount of water flow. The automatic plant watering system directs the needed amount of water to your plant's roots without the fear of overwatering and allowing them to dry out.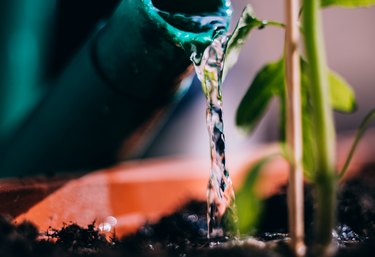 The Best Overall Plant Watering Stakes
Blumat Classic Plant Watering Stakes
The Blumat classic self-watering stakes are the perfect solution for those going on vacation and who want to keep their houseplants or outdoor plants properly watered while they're away. Their durable weather-resistant construction means they'll stand up to outdoor conditions year-round. Best of all, it takes about 15 minutes to set up the entire plant watering system. The clay cones are inserted directly into the potted plant's soil, with each cone connected to a 38-inch silicone tube that is then inserted into a reservoir of water, which then acts like a vacuum. You can use any size of water source, from a typical water bottle to larger containers. The larger the container holding the water, the longer the Blumat self-watering stakes will deliver the right amount of water to your potted plants.
These watering stakes also allow you to adjust the amount of the water flow. ensuring healthier plants. To slow down the amount of water directed to the potted plants, you simply place the reservoir lower than the Blumat watering spike. To increase the water flow, you raise the reservoir higher than the Blumat. Hooking the tubing up to a gallon-sized water source will assure the watering spikes continue acting like a drip irrigation system for weeks. This means you'll return home to happy and flourishing plants instead of half-dead and wilted ones.
The Best Budget Plant Watering Stakes
Deaname 10 Pack Self-Watering Spikes
The Deaname self-watering spikes come in a handy 10-pack and will save you a few dollars. All the same, it will keep your potted plants happy, healthy and watered. The self-watering spikes are easy to use and made from non-toxic ABS plastic, making them durable enough for both indoor and outdoor use. The eco-friendly watering spikes act like a drip irrigation system directing water to your plant's roots. They have an adjustable valve to regulate the amount of water flow based on your potted plant's needs.
These watering spikes are a breeze to set up—all you need is to attach a 500-milliter plastic bottle filled with water on top of the stake and poke a hole in its bottom to release pressure and allow the water to drip out. Single-serve soda bottles work well on the reservoir and will usually continue watering your plants for around a week, depending on the water flow setting. The set comes in five blue and five green spikes and, between their adjustability and affordability, you won't have to worry about your hanging baskets or potted plants withering in thirst while you're away from home.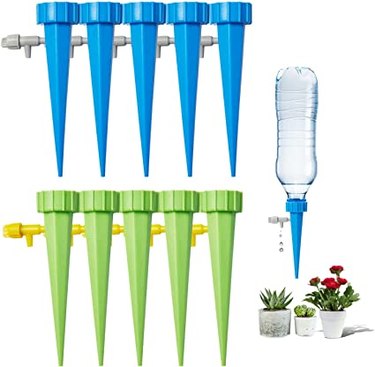 The Best Multi-Pack of Plant Watering Stakes
FAMILy 10-Pack Plant Watering Stakes
With the FAMILy multi-pack of plant watering stakes, you get 10 eco-friendly terracotta watering spikes that fit directly into the soil of your potted plants. These watering spikes work well for both indoor plants and outdoor plants, making sure your plant's roots receive just the right amount of water for healthy growth. You receive enough watering spikes to make sure all your potted plants receive a drink of water. The terracotta stakes deliver a constant flow of water to your potted plants and hanging baskets without the fear of over-watering or under-watering.
The terracotta watering spikes are easy to use and work best with long-neck bottles such as wine bottles, delivering water for around a week to 10 days, depending on your particular plant's water needs, humidity and composition of the soil. The filled bottle is simply inserted into the top of the terracotta stake and then works as a self-watering system, giving the roots a steady, slow drip of water. The spikes allow you to recycle your used bottles. You can also recycle the spikes and use them over and over again.
The Best-Designed Plant Watering Stakes
Blumat Tropf Automatic Watering System Kit (5 Plants)
The Blumat Tropf automatic watering system is designed to continuously water up to five plants and has an adjustable water flow. Besides its versatile design, durability and adjustability, you can use this automatic watering system for potted plants and hanging baskets, as well as in the greenhouse or outdoors in your raised garden beds. The system doesn't require batteries or electricity to deliver the right amount of water to your plants. This particular system comes with 5-inch clay "carrots" suitable for use with pots up to 10 inches. If you have potted plants in pots larger than 10-inches, it's best to use the Blumat system with 9-inch clay "carrots."
This easy-to-use kit comes with the five clay water spikes, an adapter that attaches to the water reservoir (not included), a 3-millimeter to 8-millimeter end piece and seven meters of 8-millimeter tubing. Each watering sensor covers an area of up to 12 inches in diameter so you can personalize it to your specific needs. You can adjust the flow rate of water to suit your plant's needs and, if the system is hooked up to a hose, you get an unlimited amount of water. You can also hook the system up to a large reservoir of water like a 10-gallon container that will continue acting like a drip irrigation system for a prolonged period of time. Between the system's durable design and versatile use in your potted plants, container gardens or directly in the garden, Blumat's Tropf will keep your plants happy and hydrated no matter how long you'll be away.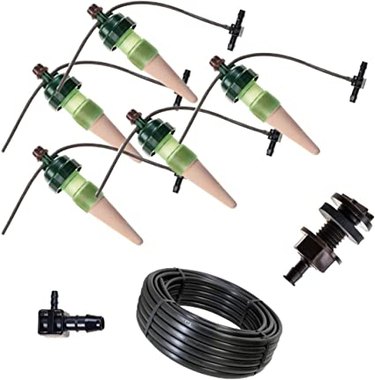 The Best Water Globe Watering Stakes
Cotswold Plant Watering Globes (4 Each)
Cotswold plant watering globes are as useful as they are beautiful. The colorful watering globes are hand-crafted in blown glass and the package comes with four globes in unique and assorted colors. They add a decorative appeal to your potted plants both inside and outside. Each globe is 11.8 inches tall with a 3.34 inch diameter and holds up to 10 ounces of water.
The package also contains a free water meter and pH meter so you'll always know just how much water your plants are getting, as well as the pH level of the soil. The self-watering globes are a breeze to use. All you have to do is fill them up with water and then stick them into the soil, after which they'll slowly release water to the plant's roots as the soil begins to dry. How much water they release is dependent on the dryness of the soil, so it's best to start with fully hydrated soil. If these particular watering globes are too large, the company also makes them in a smaller 7-ounce size that's perfect for small containers.