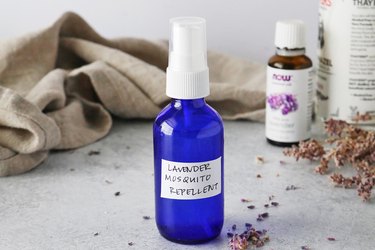 Now that summer is in full swing, it's time to get ready for sunshine, barbecues and ... mosquitos. The warmer months, after all, are peak season for these pesky bugs that can put a damper on your summer festivities. But luckily, thanks to this easy, homemade mosquito repellent, it's possible to keep the bug bites at bay while using all-natural ingredients.
When we say "all natural," we're talking about lavender essential oil, which has natural mosquito repelling properties. This natural repellent also features a base of witch hazel, an ingredient that's soothing and cooling on the skin. As a result, this DIY bug spray doesn't just repel bugs and mosquito bites; it feels amazing on hot summer days too.
It only takes two steps to make it (for real!). So, what are you waiting for? Keep reading for the steps to bid adieu to mosquitos the natural way.
Things You'll Need
Small funnel

2-ounce spray bottle

2 ounces witch hazel or distilled water

30 drops lavender essential oil (or a combination of essential oils)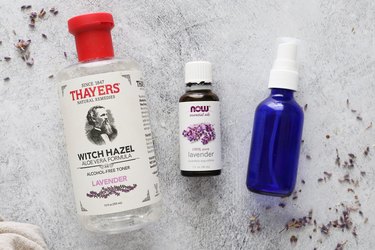 Step 1: Funnel the Ingredients
Using a funnel, carefully fill the spray bottle with witch hazel water — i.e., an astringent made of water infused with the twigs and bark of the witch hazel plant. You can find it in the skin care section of most drug stores, supermarkets or natural food stores. Alternatively, you can use distilled water in place of witch hazel.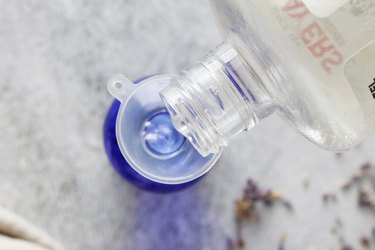 Next, add 30 to 40 drops of essential oil. You can use all lavender essential oil or for even more mosquito repelling oomph, you can add other essential oils, like lemongrass, citronella, cedarwood, geranium, catnip, or rosemary oil. All of these are said to have natural bug repellent properties. The same goes for peppermint oil and lemon eucalyptus essential oil, which are known to be energizing and uplifting. Feel free to mix and match these oils to create your own unique mosquito repellent spray.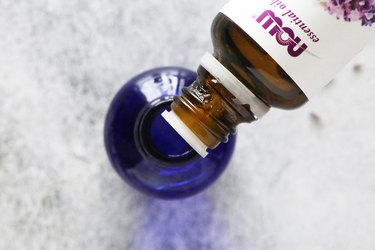 If you'd like to use fresh lavender in place of lavender essential oil, you'll need to make a lavender tea first. Place the lavender buds in a cup and then pour boiling water over them. Let it steep for 20 to 30 minutes. The resulting tea can be used as is or combined with witch hazel at a 2:1 ratio.
Tip
Once summer has come and gone, you'll be able to use this lavender mosquito repellent recipe as a natural perfume or a relaxing room spray. You can even turn it into a moisturizing body spray, like a liquid lotion, for the winter months by adding fractioned coconut oil (which is liquid at room temperature), jojoba oil or olive oil.
Step 2: Shake It Up
Secure the spray topper on the bottle and shake to combine the ingredients. Just like that, you have a DIY insect repellent that's free of DEET and other chemicals!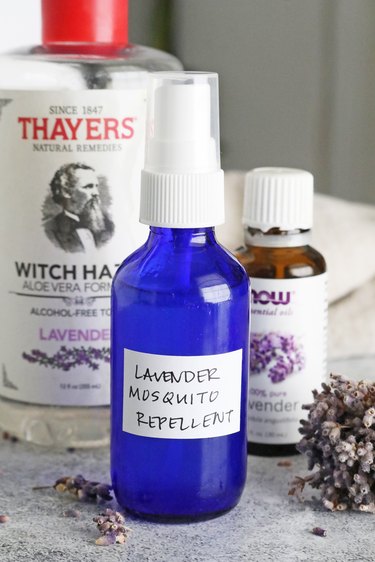 To use your natural mosquito repellent, simply spray it on your exposed skin. (As with all natural remedies, if you'd like to use it on young children or babies, check with your pediatrician first, especially if you're unsure about your child's skin sensitivities.) Be sure to reapply it often, especially after sweating or swimming. You should also apply the mixture if you plan to be near ponds or standing water, as these tend to attract mosquitos. Just be sure to close your eyes and mouth when using the spray and avoid applying it to open wounds.
Needless to say, with this DIY mosquito repellent on your side, you'll be ready to take on your favorite outdoor activities.
Tip
When creating your DIY mosquito repellent, keep in mind that it's possible to be sensitive or allergic to both essential and carrier oils. So, if you're using an ingredient for the first time, do a patch test first by applying a small amount on your skin. If you develop irritation or an allergic reaction, avoid using the substance in your spray.